Dining with a Hatsister at Large
Although we are based in The Tricounty area of Charleston, we also live in the "World of Cyberspace." Therefore, we are fortunate to have hatsisters from "off" who find our love of hats jives with theirs. We sometimes are lucky to have them come visit.
Such was the case when Madam Hatter Polly came all the way from California to grace us with her presence.
We dined at Coast, to give her a true taste of The Lowcountry..
She wrote:
"I had such a delightful evening with all of you. It's fun to match faces with photos. You chose a fine Restaurant for dinner; the food was delicious. Tomorrow we leave for Savannah. I carry wonderful memories of this captivating City, and of meeting you and learning more about The Hat Ladies. I hope to return in the spring I'd like to see more of the historic houses, street by street. Thank you for making my stay in Charleston so special. Warmly, Polly.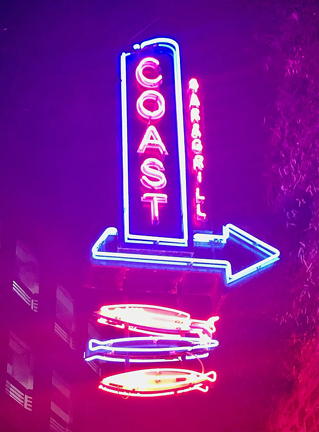 | | |
| --- | --- |
| Lady A. | Lady Jayne |
| Polly, Archie, Marguerite, Jayne | Archie, Marguerite, Polly |
| Jayne. Marguerite, Polly, Archie | Marguerite, Jayne |