TOURING THE GAILLARD AUDITORIUM
The Hat Ladies were delighted to have a private tour of this exquisite new jewel in Charleston's Crown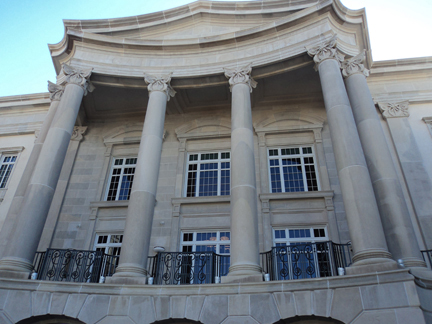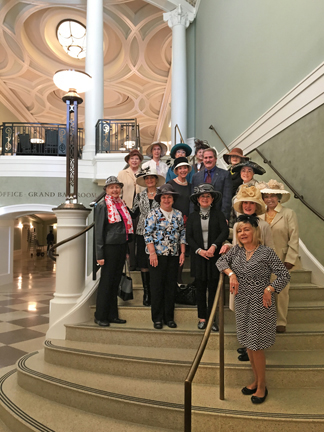 Tom Tomlinson, Executive Director, asks for a photo op.
| | |
| --- | --- |
| Gathering in the magnificent Lobby for our private Tour | |
| | |
| --- | --- |
| | Our Tour begins, and we begin to understand the significance of the design and detail throughout the Building |
| Palmetto trees are the design on the carpet in the hallways | Palmetto trees are also the design of the white grid work in the main Concert Hall, while swirls of sweetgrass decorate the columns |
| We take our seats and learn why the colors were chosen | Let the show begin! |
| Pretty as a picture... | ...Taken from one of the many levels |
| | The Grand Ball Room |
| Even the outside can accommodate elegant events | |
| A convenient and delicious cafe inside | |
One last group photo, holding the goody bags we were given as souvenirs
COMMENTS:
From our Ladies:
In my opinion, the tour, with the guides, building, and of course, the Hat Sisters went beautifully today. Of course the added photo ops and the fact we had a really nice lunch in the bistro, allowing us to continue our socializing without rambling all over town was the cherry on top. Thanks for all you do to keep us aware of Hat pin ings in our beautiful city, allowing our beautiful city to be aware of us!
Gaillard tour great and lunch with all fun too! When I was there for several concerts, did not notice or have time to pay attention to all the special decor our guide pointed out to us so it was well worth it. : ) We are fortunate to have such a beautiful place for the arts in Charleston. Thanks for arranging!
From our Coordinator at The Gaillard:
We truly enjoyed our time with all of you. We look forward to our next adventure with The Hat Ladies!