2018
INTERVIEW appearing in Hatlines Magazine (Winter issue)
by Lauren Ritchie
The Hat Ladies of Charleston USA
Archie Burkel, found of The Hat Ladies of Charleston, is the group's 'Top Hat.' She is also the author of The Joy of Hats, a member of the Headwear Association in America, and of course, an all-around hat lover. "I have never sold a hat, made a hat, or decorated a hat," she said. "I just love wearing hats."
Archie Burkel wearing a hat by Mirjam Nuver
TRUE LOVER OF HATS
Archie's love of hats started at the age of 10 when she and a friend discovered a trunk of hats in the attic. When she moved to Charleston over 20 years ago, she began to develop a habit of wearing a hat when she was out and about. It had more to do with style than practicality. People soon took notice and often approached he to let her know how much they enjoyed her style.
With a background as a guidance counselor, Archie realised the positive impact these conversations were having. She kept in touch with some of these ladies and in March 2001 she hosted a small event to discuss what they all had in common: the love of hats. As the group grew in numbers and the local press began taking an interest, she decided to host a larger scale luncheon in September 2001. Some 48 women turned up on what happened to be the day before 9/11.
Archie would later comment, "I think The Hat Ladies would have taken off anyway. But after that terrible trauma, you wanted to look good; you wanted to feel good; and you wanted to bond with people." Following on from the good feeling generated by their first meeting, The Hat Ladies of Charleston added their "HaTpy Hour every month and soon began to explore ways of contributing to the wider community. As their "Top Hat," Archie wanted to include volunteering as part of the group's activities. Her philosophy was: "If you look good, you feel good, and if you feel good, you do good."
A STYLISH BRIGADE OF VOLUNTEERS WHO ARE MAKING A DIFFERENCE
With around 150 active members, there is no limit to what the group might take on, and all hat lovers are always welcome. The events they organise have been attended by enthusiasts of all ages, from kids as young as 12 to seasoned hat wearers well into their 90's. Ladies contribute to the volunteer aspect of the collective according to their interest and availability.
Contributing to their community, the volunteers have adopted a number of causes. They don't give financial support but do give their time. Once a good relationship is established, they try to remain involved and support the organisation on an ongoing basis.
Meanwhile, other causes are added upon request. One such project, Habitat for Humanity, is a non-profit organisation which devotes itself to building 'simple, decent, and affordable' housing. The Hat Ladies of Charleston act as the clean-up crew once the build is complete and the house is ready for occupancy. They don their pink hard hats and get to work.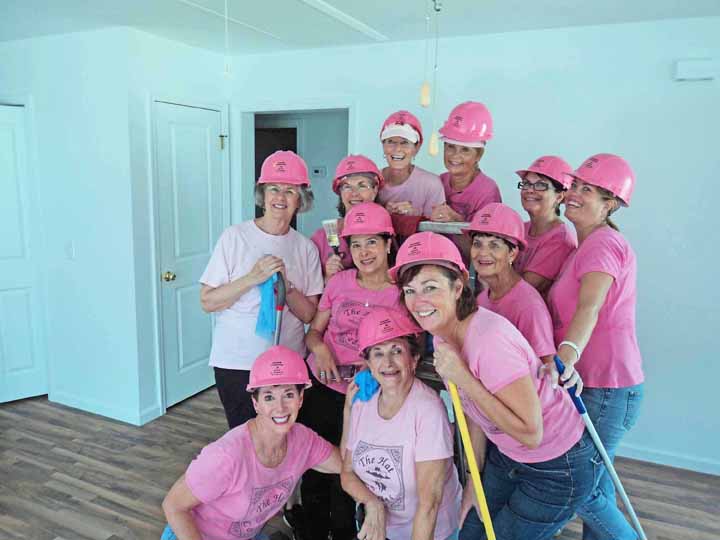 The Charleston area has many historic homes that are open to the public and for tours. The Hat Ladies assist as guides in the tours, and in so doing, help raise funds for the local charities. Their contribution to 'The Walk for Autism,' checking tickets and putting hot dogs in buns, seemed rather small. But in fact it enabled the parents to take part in the Walk with their children.
But never are The Hat Ladies more visible than when they hold their annual Easter Promenade down the historic streets of their Holy City. Members and their families are joined by the Mayor and his wife and various TV and radio personalities as they smile and wave, 'HaTpy Easter' to the enthusiastic crowds.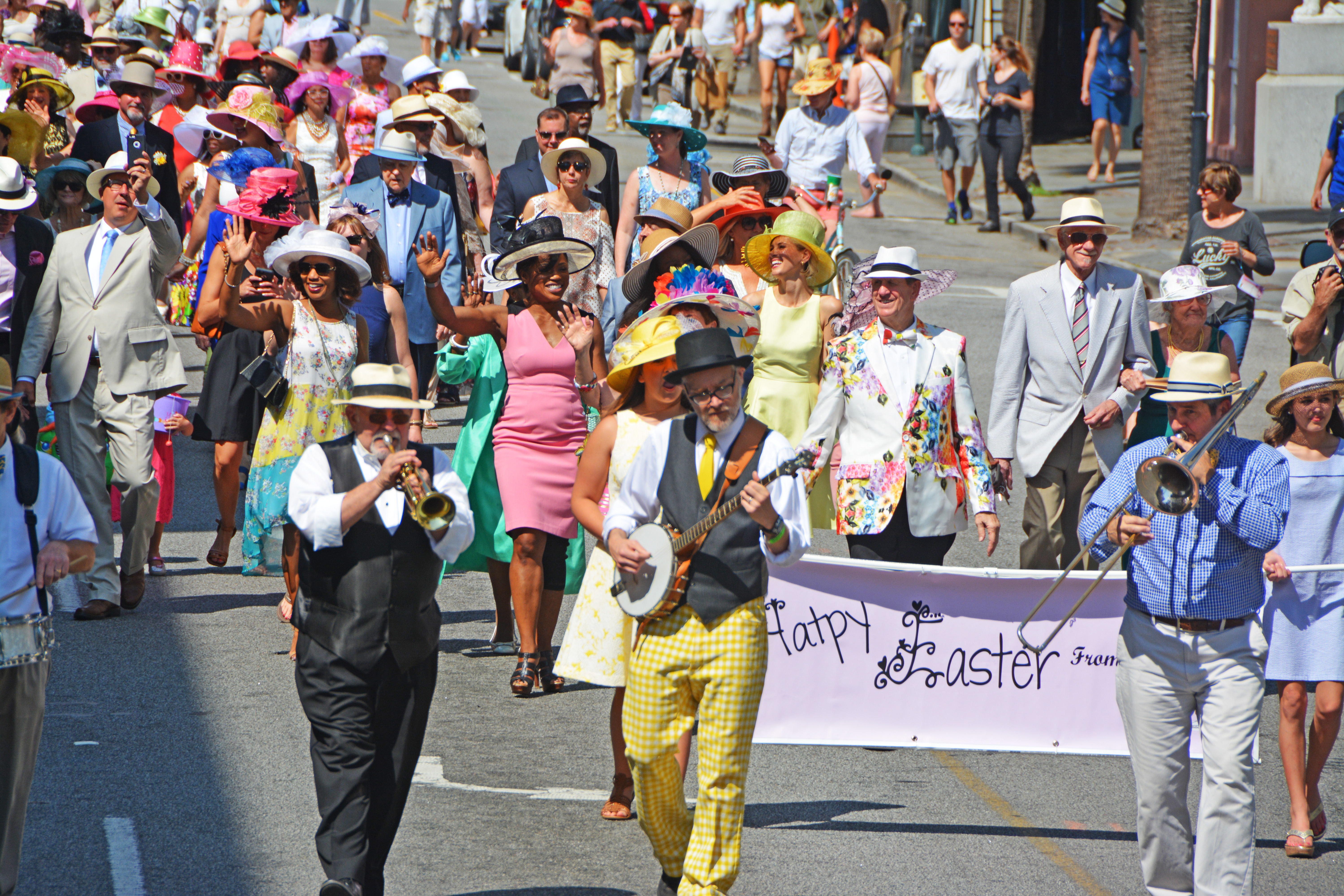 Yet another feather in their cap is having created 'The Hats of The World Luncheon,' whereby they hosted the female ambassadors and high officials of The United Nations in New York five times. What Archie loved the most was showing the world how a love of hats transcends differences in cultures and religion; hats speak a language of their own and form an immediate bond between people.
HAT COLLECTION
One of Archie's goals is to ensure hats are included in the new International African American Museum. Charleston was a key port for the slave trade: 40% of all slaves in the US entered the country through this City, bringing their hat wearing tradition with them. Many were of African descent. An African American milliner by the name of Jewell Mikell, who passed way in 2015, was affectionately known as the 'Hat Lady.' Archie believes she should be honoured in this new Museum.
The Hat Ladies of Charleston currently source most of their pieces from local stores and online. The members also have a hat-swap arrangement and regularly host Gently Used Hat Sales to pass on styles they are no longer interested in wearing themselves.
Archie is very aware of making the appropriate choice of style for each occasion or outing and always tries to have a unique element in her hats. Since The Hat Ladies wear hats of all colours, she does not restrict herself to a particular one but seeks to have a range of options for every season. At a conservative guess, she says she has about 150 pieces in her collection.
The Betmar Hat brand, an American label that was established in 1933, is a favourite of Archie's. It comes under the umbrella of Bollman Hat Company and offers a variety of styles, from cute and casual hats to headwear suitable for luncheons or evening events.
For her contributions to the Charleston Community, Archie has received many honors. Recently she was one of the 9 community members selected for The Spotlight Award, established in memory of the 9 members of The Mother Emanual AME Church who were murdered following a prayer service. In addition to honoring these individuals, the Award "recognizes the angels among us" while they are still alive.
Archie isn't ready to hang up her hat any time soon. The thrill of supporting the Charleston community and seeing Ladies pull self-esteem out of their hat is too strong. In response to the oft-heard comment, "I wish hats would come back," Archie's response comes quickly to the point, "Put one on your head, and they will."