2005
Post and Courier
December 2005
"High Style," "Safe Moves"
Safe Moves, a community-based family violence resource center, held its annual fundraiser and silent auction November 3 at the Charleston Maritime Center with the help of 'The Hat Ladies.' The mission of Safe Moves is t end the cycle of domestic violence by supporting families as they move toard long-term, nonviolent lifestyles...."
Post and Courier
November 2005
"Race Winners Share Medals" by Herb Frazier
James Island resident Archie Burkel has tipped her hat to a Mount Pleasant man and his son who shared their athletic spotlight with two 'Hat Ladies" who are cancer survivors.
Last month, Eric Ruckel, 41, and his son, Ethan Ruckel, 10, both won medals in their age groups in the Race for the Cure, a 5K run sponsored by the Lowcountry Affiliate of the Susan G. Komen Breast Cancer Foundation. After the Race, the Ruckels approached a group of women dressed in pink T-shirts and fluffy pink hats, thinking they were breast cancer survivors. Burkel, President of The Hat Ladies of Charleston, said they were not cancer survivors, but knew two club members who have survived cancer and would be happy to receive the medals.
During a November 5 luncheon at the Holiday Inn Riverview, the Ruckels gave their medals to Hat Ladies members LaQuines Brown and Ruth Mazyck. Brown and Mazyck participated in the 5K walk. As Brown and Mazyck were called to receive the medals, they were stunned, then tearful, and finally overjoyed. Mazyck, a volunteer at Hope Lodge, praised the Hollings Cancer Center and reminded women to get yearly breast check ups. She said she would share the medal with her sister, Jan Hucks, for her bravery in facing her own health issues. Brown described how she vowed to participate in the Race one year after undergoing a grueling treatment for lung cancer. She expressed her faith in God and her admiration for the example Ruckel was setting for his son. Ruckel said, "Ethan is my inspiration." He said he hoped to lead a life in which he could "make a difference."
Although Ruckel and his son are avid runners, they had not planned to enter the Race. But after listening to WTMA radio personality Richard Todd, they decided to run. "He was so passionate about the cause that my son and I decided to do it," Ruckel said in an interview. "We've gotten medals before, and I said this would mean more to a cancer survivor, so we wanted to present them with our medals."
Charleston Magazine
July 2005
"The White Party"
Attendees raided their closets for their favorite summer whites--or their favorite hats--in honor of the Charleston Couture Fashion Show, which gave local shops the chance to showcase their most unique pieces. The show raised $1,000 to benefit My Sister's House, the YMCA, and The Hat Ladies' Monetary Award at Garrett Academy. Pictured: Archie Burkel, Beverly Crave, Jeanie Heath.
Charleston Magazine
June 2005
"Tipping my Hat to You"
My husband gave me a subscription to Charleston last year for my birthday, and I insisted that he renew it for my gift again this year. As a relative newcomer to Charleston..., I truly enjoy receiving your publication....I was surprised, however, that your recent Style Issue did not highlight one of the top style makers of our fair city: Archie Burkel, "Top Hat" of The Hat Ladies of Charleston. I joined this wonderful group of women a year ago and am amazed by Archie's style and grace. Archie brings women of all ages together, not only to wear hats, but also to provide service to the community. Since she founded The Hat Ladies, you'd be hard-pressed to attend any community function and not see many beautiful women in hats of all styles.
I truly agree with the top-10 list in the issue that listed The Hat Ladies as a unique part of Charleston's style and charm, but I would like to give the credit directly to Ms. Burkel.
Thank you for your time. Keep up the great work! Shannon Proctor
Promenade Coverage (in the months, weeks, and days before and of, March 26, 2005)
Special Thanks to: Gateway Publications, Charleston Magazine, Skirt!, The Post and Courier, The Charleston City Paper, The Charleston Mercury, The Holy City Chronicle, The Little Black Book for the Busy Woman, The Moultrie News, The James Island Journal
March/April 2005
"Hats Off to The Hat Ladies of Charleston" by Donna Cornelius
Every spring, the sedate Charleston streets of Broad and East Bay fill with happy, humming ladies--plus a few dapper men, giggling children, and even well-mannered pooches. All are wearing hats, from wide-brimmed straw boaters bedecked with pink flowers to snazzy head-toppers trimmed with polka-dot ribbons. The high-spirited group strolls along the Battery, where residents of the historic district gather on shaded piazzas to watch The Hat Ladies of Charleston's annual Easter Promenade.
Waving to well-wishers along the way, the merry band wends it way past the city's stately old mansions, beaming with pleasure. Leisurely they make their way down timeworn streets, enjoying the attention of onlookers and the sense of camaraderie they share with one another.
Their destination is a lively party at the Pink Palmer Home Bed and Breakfast where, sipping lemonade and balancing plate filled with dainty treats, the women and their friends have time to admire one another's finery. But it's the getting there that's half the fun.
This colorful display of hats and the women who wear them is just one of the many "hatpennings" of The Hat Ladies, founded by Top Hat Barbara "Archie" Burkel. The 300 members of this energetic group gather regularly for "hatpy" hour and monthly luncheons, and they work tirelessly for civic causes. The Easter Promenade headlines the year.
At the fledgling group's very first high tea in September 2001, Hat Lady Sherry Remillard suggested gathering for a festive Easter parade. "I jotted down her suggestions, but it seemed a bit far-fetched, given that our group numbered only eighteen at that time, "Archie says. "Eight months and 130 members later, I remembered her words." But the event, she says, "would be a promenade, not a parade. No clowns or bands for us. It would be a simple, elegant procession, down the historic streets of Charleston."
Archie says she had no idea how many would turn out for the inaugural promenade. But as the time approached for the procession to begin, a crowd began to gather. "When the clock of St. Michael's Church struck eleven o'clock, my husband, John, and I began our stroll, followed by over seventy-five ladies, gents, and children," recalls Archie. "We took a few steps, and the police started motioning us into the streets. Traffic stopped, spectators cheered, we smiled and waved--and a new 'old' tradition was born."
While the group delights in The Promenade and its many social gatherings, members promote substance as well as style. Hat Ladies are likely to be found all dressed up to serve as docents at historic home tours, or wearing their work duds as they pitch in to help build a Habitat for Humanity house. Some charitable efforts are undertaken as a group. "We provide volunteer activities, at least one a month, for our members," says Archie. The Hat Ladies formed a team for the Susan G. Komen Breast Cancer Foundation's Race for the Cure and have participated in a designer show house that raises money to help cure juvenile diabetes. Other causes are supported by members on an individual basis. Hat-wearing helpers often visit hospitals and retirement homes, bringing along hats for the patients and residents to decorate.
Plans for this year's Easter Promenade have long been underway and anticipation is running high, not only among The Hat Ladies, but also the citizens of Charleston who have embraced The Promenade with endless enthusiasm.
Better Homes and Gardens, Creative Home
Spring 2005
Living The Creative Life: "Pulling Happiness Out of Your Hat." One woman's sartorial savoir-faire launched a volunteer brigade of stylish ladies who are making a difference."
PHOTO CAPTION:
Archie (Barbara) Burkel cuts a regal figure in a purple dress, hat, and tennis shoes, as she leads The Hat Ladies on their annual Easter Promenade through the streets of old Charleston, South Carolina. What Burkel started as a social group for women who are mad for millinery has grown into a merry band of civic-minded volunteers now of members strong. To find out how to start a Hat Ladies chapter in your town, visit www.hatladies.org
I have long admired women who have been creative in the later decades of their lives.
I have always wanted to "make a difference. "I have always chosen professions I felt were "meaningful. "Never could I have imagined all three of these qualities would come together under a hat.

"Whatís in a hat?" you ask. The answers surprised me and may surprise you, too. First some background:

I realized my life-long dream of being a Guidance Counselor, my profession for 23 years, while living in Chicago. Then I moved to Atlanta and served as Volunteer Coordinator at President Jimmy Carterís Executive Offices. I was 52 years old, with too much energy to well, "hang up my hat" and retire.

Against this backdrop, "hats" kept surfacing. I loved them my whole life. The ones I wore in Chicago went beyond the practical; theyíd always have a bow or a feather. The ones in Atlanta I wore more frequently, thanks to the milder climate. But the beautiful ones I wore in Charleston drew the most attention. I repeatedly heard strangers saying the same four simple words, "I love your hat."

What could I do with this "hat thing?" I didnít want to sell hats; I didnít want to make hats; I didnít even know how to decorate hats. All I wanted to do was wear them--in all sizes, shapes, and colors. What could possibly be meaningful about that?

With the encouragement of my husband, I began gathering names of Ladies who said they not only loved my hat, but loved wearing their own. Once I had a few names, I found appropriate things for a group of hat-loving Ladies to do: I invited four strangers to the Historic Charleston Foundationís Spring Tour of Homes and Gardens. If my one hat garnered attention, four hats attracted even more. I added new names were to my list. It was time for High Tea at Charleston Place Hotel. Now 18 women, still total strangers, came together that day along with The Fashion Editor of The Post and Courier. A lovely article appeared in the paper two months later, and our membership increased by 100. It was time for a full-fledged luncheon. I made it a pot-luck affair, and 48 Ladies showed up. The date was Monday, September 10, 2001.

Since then, The Hat Ladies Organization went beyond fun to meaningful fun. What started with a simple premise--gathering women of all ages and backgrounds who love hats but often lack the confidence and occasion to wear them-- evolved into making those occasions meaningful for ourselves and others. We still do lunch and hold a "Hatpy Hour" once a month, but occasions to wear our hats of all colors come in the form of community service. The Hat Ladies have gained a reputation as the ones to call for help in Charleston. The newspaper describes us as "one of the most active groups in town, spreading enthusiasm to other local efforts."

Our causes run the gamut from civic (the Symphony, the Art Museum; Preservation Societies) to medical (Breast Cancer Research; Juvenile Diabetes Foundation) to social (Habitat for Humanity; visits to Assisted Living Facilities). Our hats and smiles add a special dimension to countless local events. Everyone and everything touched by a simple hat benefits in a special way.

Two of our projects are purely Hat Ladies creations: a Scholarship and a hat decorating project at the Childrenís Hospital of The Medical University of South Carolina. The scholarship goes to a girl who personifies our ideals: an ability to relate to people of all ages and backgrounds, a spirit of volunteerism, and a concern for her appearance. For the other project, Hat Ladies sew simple hats that we bring to the children to decorate and wear. Even the doctors get into the act, donning the hats to bring a smile to their patientsí faces.

As for us, all The Hat Ladies (and their gents, children and pets) put on their elegant bonnets this past April for our Third Annual Easter Promenade. We met at The Four Corners of Law intersection, strolled the historic streets of Charleston, stopped for pink lemonade at The Palmer Home Bed and Breakfast, and enjoyed a buffet at Charleston Place Hotel. In addition to our usual finery, we displayed blue ribbons in honor of Child Abuse Prevention Month.

Thus hats of all colors bring together people of all ages and backgrounds. The Hat Ladies have become a source of civic pride and a source of volunteerism. Our impact is felt on businesses such as restaurants, hotels, womenís accessories. Moreover, weíre bringing good manners and civility back. It is not surprising that The Hat Ladies chapters are spreading to other cities.

Then thereís the impact on ourselves. Fellow Hat Ladies tell me this is the best Organization theyíve ever joined. Some have even said being a member has changed their lives. For all, it is an incredible network, a chance to escape for a few hours from problems at home or in the world. It is a chance to bond with your Mother, your Grandmother, your sister, while meeting others. It is a chance to reconnect with the little girl inside of us. Itís a chance to return to a dress-up society and to reap all the benefits. It is a chance to say, "I love hats" and then do something meaningful with it.

And the impact for me? Everything Iím learning these days Iím learning from a hat:
1. People want an excuse to talk to one another
2. Self-esteem are the two most important words to women
3. Itís never too late in life to be productive and creative
4. If you look outside the (hat) box, youíll find there can be great meaning in the simplest of things
5. If you do everything you can to "follow your bliss," as Joseph Campbell wrote, you will find talents you never realized were there.

As I look back, I realize I have always been a connector: I have been putting together people, places, and things for a long, long time. Iíve pulled some amazing things out of a hat, and Iíve never been "hatpier." Best of all, now of others are "hatpy," too. And itís all been made possible by one simple fact: When (Hat) Ladies look good, they feel good, and when (Hat) Ladies feel good, they do good.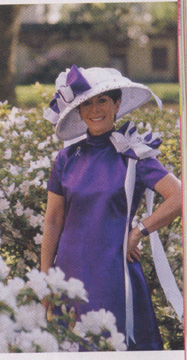 PHOTO CAPTION:
Besides her full-time job as "Top Hat" of The Hat Ladies, Archie Burkel has thrown her hat into the ring as a public speaker and a hat model. Of her many hats, the two she wears most proudly are wife to John and mother to Joy and Greg.
"Deep" Magazine
January 2005
Hats Off to Charleston
(We tagged last month's "Deep Dish" with an invitation to "send us a love letter, a rant, a picture of yourself in a gargantuan hat," and, well, The Hat Ladies took us at our word...) My hat in the attached photo foreshadows other elegant gargantuan hats tHAT will be worn in the finest of hat-wearing tradition at the Fourth Annual Hat Ladies Easter Promenade, Saturday, March 26, 2005, 11:00. Hatfully, Archie (Barbara) Burkel, Charleston, Founder and President of The Hat Ladies.