2015

HOW2HATS.COM

Hats of the World...

Earlier this year,

The Hat Ladies of Charleston, South

Carolina held their 5th annual Hats of the World

Luncheon at the residence of Romanian Ambassador

Simona Miculescu in New York City. The Hat Ladies

hosted the female ambassadors and high officials of

The United Nations in an effort to use hats to encourage

global cooperation and good will, with The Bollman

Hat Company providing headwear for all of the guests.

According to Archie Burkel, Top Hat of The Hat Ladies, "It

is never old hat to see how cultural differences disappear

at the drop of a hat.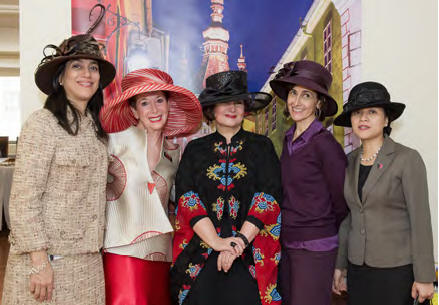 Ambassador Laura E. Flores H. (Panama), Top Hat Archie Burkel, Ambassador
Simona Miculescu (Romania), Ambassador Dina Kawar (Jordan), Ambassador
Nguyen Phuong Nga (Vietnam)
All 62 'Hats of the World' Delegates.
POST AND COURIER
A half page of photos of The Hat Ladies annual Hat Day in The Sun, a Program sponsored by The Headwear Association to promote hat wearing as sun protection as well as fashion statement.
THE HAT MAGAZINE
Photos from 5th Annual Hats of The World Luncheon hosted by The Hat Ladies for the female ambassadors and high officials of The United Nations, in New York