Lowcountry Orphan Relief Luncheon & Gala
www.lowcountryorphanrelief.org
Mission: To provide support services and aid to meet the needs of Lowcountry children identified as at-risk suffering from abandonment, abuse, and/or neglect.
Vision: That no child should be without the necessities in life, regardless of their life circumstances.
Belief: That all children have the intrinsic value and deserve to be nurtured, loved, and protected. That they are entitled to have caring adults who help them develop to their full potential.
Luncheon
photos by Hat Lady Jayne
Corinne

Betsy, Regina, Kimberly

Jayne

Pat

Kimberly

Susie...

wearing a hat sold by Kimberly in our Gently Used Hat Sale...reconfigured to the point she didn't recognize it at first

Regina

Betsy

One Jakki/another Jackie

Susie, Kimberly, Betsy, Jakki

President of LOR

Corinne

Jackie

There was a charming Fashion Show starring the Children. But it is best their photos not be included.

Use your imagination: They tugged at both our heart strings and purse strings.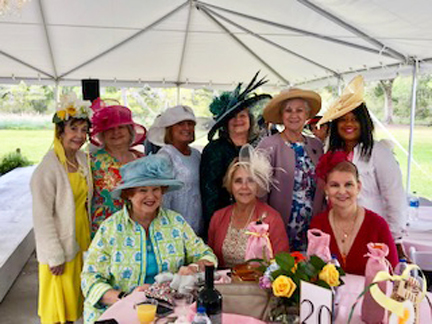 Top (left to right): Jackie, Pat, Regina, Susie, Betsy, Jakki
Seated: Jayne, Corinne, Kimberly
*****
These photos were taken a few years ago at a Gala for LOR with a Moulin Rouge theme:
They're so charming, they're worth keeping:
| | |
| --- | --- |
| Naturally Archie, Mimi, and Jackie dress the part! | |
| Mimi, Jackie, and Archie with our good friend, Tom Crawford of WCIV, who wrote: You ladies always look the greatest. Such a good night for LOR. Love you all. Tom | Archie and Jackie are asked for a photograph with Shi Johnson of Elite Dance Studio and Apparel |
| Jackie never passes up an opportunity to dance | Archie and Jackie hold the dolls they won in the Silent Auction |