MARDI BRAS LUNCHEON
This annual Hat Ladies Luncheon is held in support of The Undergarment Society, a nonprofit Organization that provides women escaping domestic violence, homelessness, and other obstacles basic, but often overlooked necessities: New bras and underwear. In so doing, they encourage Ladies to host parties where attendees bring bras and packaged underwear in all sizes. These items are then donated to Lowcountry organizations that help women and teenage girls start anew.
Our tradition is to hold our party at The Glass Onion. It is a perfect fit, since their menu includes foods typical of New Orleans. Moreover, they generously help us collect such items throughout the month of February.
www.theundergarmentsociety.com
www.ilovetheglass onion.com
Thanks to COVID and a number of hatsisters coincidentally having doctors' appointments at the time of this year's gathering (including GETTING their COVID shots), we had a smaller turnout than previously. But we always make up for quantity with the quality of those who COULD come. Best of all, our collection of Undergarments continues 'til the end of February, with donations from The Hat Ladies supplemented by donations from other patrons of The Glass Onion.
| | |
| --- | --- |
| Darling Deana | Cute Cathie |
| Enchanting Elinor | Intriguing Ida |
| Perky Pam | Joyful Jayne |
| Awesome Archie | Who needs a actual float?? |
| | |
| | |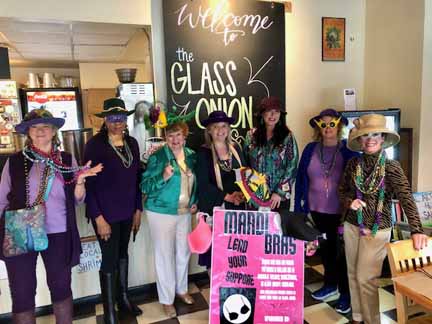 Cathie, Ida, Jayne, Pam, Deana, Elinor, Archie
As one Hatsister wrote: "A needed fun event. Thank you."
And another:
"Thank you for the opportunity to put on our big girl panties and party with our brassiere-ly delightful hat sisters. What a treat it was to grab our girdles and slip out for a bit. We got to Spanx COVID on itís crinolined bum as we garter-ed our enthusiasm at seeing stocking clad sisters. The day was in no way underwear-ming and draws fine memories of a deed well done. Iím sure all of our corsets were bursting and our bustiers busting from another tightly executed fÍte. Enough of my silliness, cheers to you for pulling off another pandemic party!"
*****
Mardi Bras 2020