PACK THE PURSE PROJECT
Pack The Purse was created 3 years ago, when a young lady who had been a success story of The Florence Crittenton Home saw a need in her community. That need was to give local residents a supply of toiletries that they could carry around in a gently used purse. In that way, both their hygiene and sense of dignity could be preserved.
This Project is housed at Tricounty Family Ministries, located at Cherokee Place United Methodist Church, along with a other services they offer. Although it is part of their overall giveaway of goods at Christmas time, it continues throughout the year as ladies can bring their purse to get refills.
The Hat Ladies have been part of this Project from the beginning. When the Lady who started it moved away, we took charge. The collection of supplies continues throughout the year. Our contributions have been supplemented by Belmond Charleston and The Marriott on Lockwood, Book Clubs and DAR Chapters and members in the community who hear about it via the radio and television.
Here we are Packing the Purses, followed by photos from the day we Distributed The Purses
| | |
| --- | --- |
| Pat explains the lay of the land. What followed was like symphony with each section in perfect harmony with the rest. | Cheryl and Kathy hit the right note from the start. In fact, everyone does |
| Joan and Maggie | Renee and Sheila |
| | Eileen and Susie |
| Kanysile and Gail (Daughter and Mom) | |
| | |
| Pat, Mimi, and Mika | Linda and Susie |
| Birthday Susan | Pat, Pat, and Renee |
| Carolyn and Joan | |
| Mimi and Pat (did they pack up Mika???) | Renee and Harriet have more sorting to do |
| Sheila and Kathy | Pat, who is anything BUT a "Reject!" |
| Gail and Harriet | Gail and Harriet |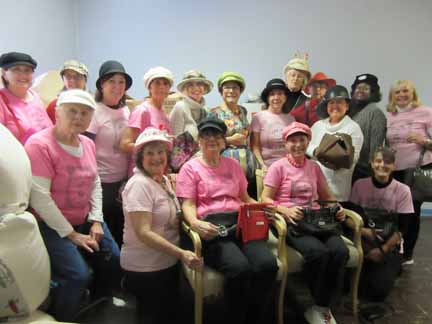 Top Row: Sheila, Eileen, Cheryl, Carolyn, Maggie, Renee, Harriet, Susan, Pat, Kathy, Linda, Pat
Bottom Row: Joan, Susie, Pat, Archie, Mimi
Lunch following for those still available: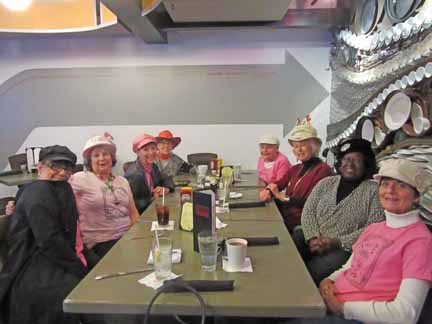 Left side: Pat, Susie, Archie, Pat,
Right side: Carolyn, Linda, Susan, Joan
DISTRIBUTION
It "took a village" to pack the purses; just a handful to distribute 100's of them!
| | |
| --- | --- |
| Morning Shift: Mimi and David get there extra early | Mimi, Kathy, Pat, Regina, Eileen, Harriet |
| Mimi, Kathy, Pat, Regina, Eileen, Harriet | Afternoon Shift: Betsy, Deana, Gail; not pictured: Jackie |