PEOPLE, PLACES, and THINGS
One of the first rules of grammar is to learn the definition of a noun: People, places, and things
I hope you have enjoyed looking at the places John and I were lucky to visit. Our guides gave us an encyclopedia of historic information, took us into countless churches, and navigated us through some of the most beautiful landscape on earth. There was almost too much to absorb, let alone retain. Good thing we took pictures and held onto brochures.
When all is said and done, however, it is the people we will remember, whenever we remember, the way it was.
In the beginning of our 44 day odyssey, we knew the people; we were traveling with hatsisters and their husbands. By the 5th leg, we were on a train tour where only six of us spoke English; the rest spoke Spanish. Every step of the way "something" kept bringing us together with those around us. "Something" transcended language. "Something" added a special dimension to our experience and that of others. That "something" was the HAT.
Of course, hats were the foundation for the entire trip. I learned by chance two years ago that anyone could buy tickets to The Royal Ascot Races in London. Anyone could put a hat on her head and a smile on her face and play Audrey Hepburn, telling those horses to "move their bloomin' arssees." Being royalty wasn't required...at least for some of the seats.
Going to The Races became the only thing on my Bucket List. With my 70th year in sight, it was the perfect time to realize it. Five hatsisters and two hat husbands joined John and me on the first part of our trip. All those pictures are posted under "Ascot." It was indeed a dream come true. Hats were everywhere. Although they were optional for the gents depending on where they were seated, they were required for ladies. Our Ladies fit right in and ate it all up; it was the ultimate candy store for hat enthusiasts: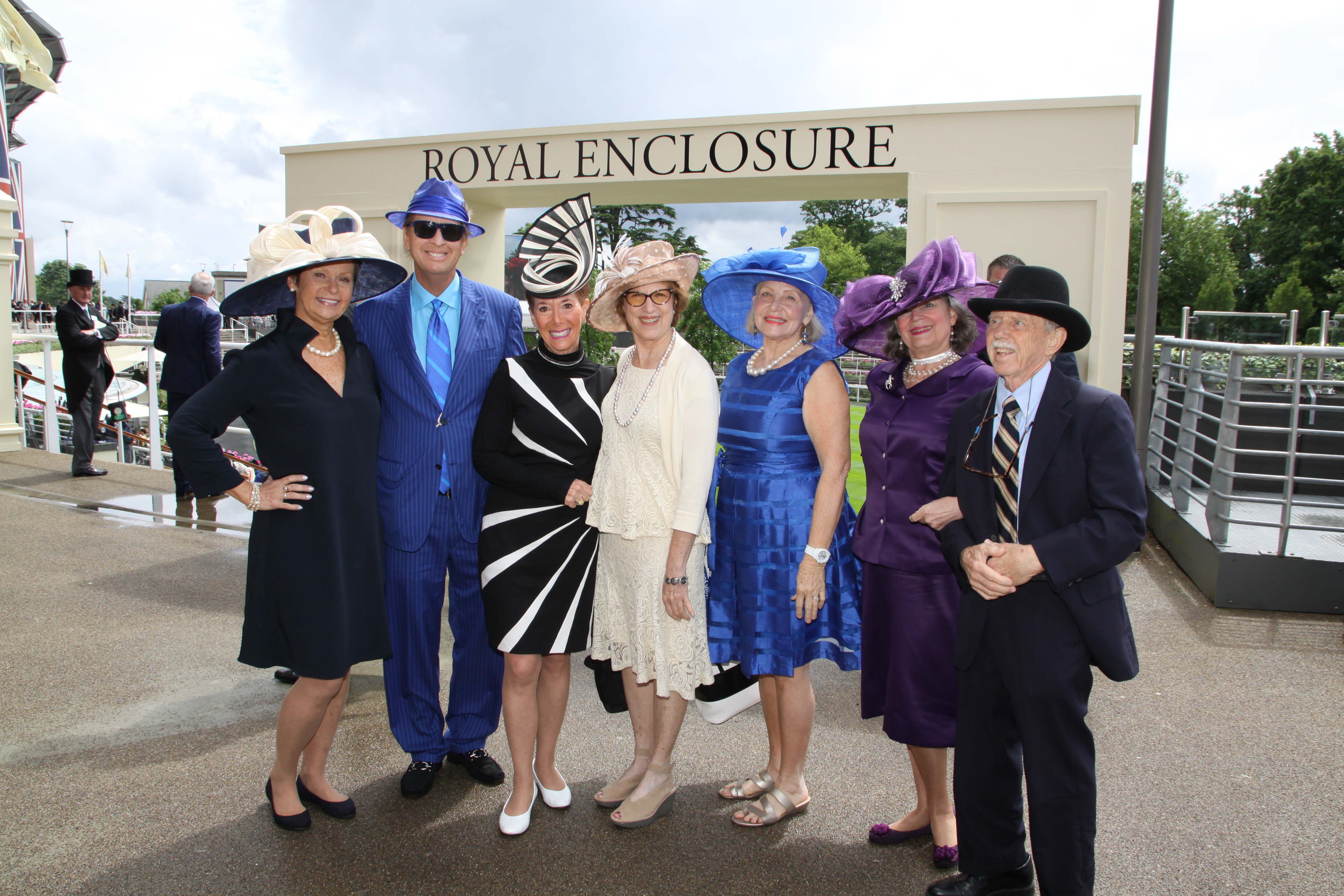 Joan, Jeff, Archie, Teri, Nancy, Susie, Bubber. (John back in the Lounge saving seats)
******
We went our separate ways after Ascot. Jeff and Joan joined John and me on a Tauk Windstar Cruise around Southern Spain. There were mostly Americans on board the ship with its @300 passengers. Joan and I had packed a number of hats, ranging from the fanciest for Ascot to the more casual for sight seeing to a few in between. The first night we went to dinner, we were all greeted by the Maitre d'. Then he took me by the arm and led me over to the side. I must confess I thought he was about to compliment my hat. To my utter shock, he said, "I'm sorry, Madam, but you cannot wear your hat in the Dining Room."
Now saying something like that to me is like asking me to take off my clothes. Totally rattled, I said I would oblige once I was seated. He walked us to a table at the far end of the room. I sat down and removed my hat, while we all sat there stunned and silent. Joan's hat was a small fascinator, so hers had been overlooked or judged to be acceptable.
About half way through our meal, the Captain came over to ask us how things were going, just as he was asking the other tables. John politely told him what had happened regarding my hat. I pointed to my hat lying on the bench beside me. The Captain said I could wear it...and any other hats I wanted to wear. I think the concern had centered around hats in the formal Dining Room being too casual. In any case, the next evening he was waiting at the Reception Desk. He motioned for me to take his arm, then walked me to the far end of the Dining Room for all to see...including the Maitre d'.
After that heart/hat stopping episode, it was smooth sailing...trip wise and hat wise. But an interesting thing happened on the way from one stop to another: People starting noticing our hats. After all, both Joan and I brought many to cover all aspects of our trip. People started saying they looked forward to seeing which hat we'd be wearing each day. By the midway point of our journey, one question kept being asked, "How do you travel with all these hats?"
That question is one I explain in my Book, The Joy of Hats. Rather than keep answering it over and over, I went to the Activities Director and described the interest being generated by our hats. I asked if I might do a Presentation on the last day of the cruise when we would be at sea all day. She wrote me into the Program. Here are pictures from Joan and my "Show and Tell:"
| | |
| --- | --- |
| | |
| | |
I had saved my best and biggest hat for the last night. When I entered the lounge for the disembarkation briefing, the passengers applauded. The hats proved to be fun for everyone. This reaction would be repeated on the subsequent legs of our odyssey....