THANKING OUR PHOTOGRAPHERS
Everyone who has enjoyed these photographs should be thanking our photographers along with me. Although The Hat Ladies' Easter Promenade is the subject of many a photograph, many wind up in personal scrapbooks.
While we readily admit we love having our picture taken and we're always "camera ready," nowhere is it more important to us than on Promenade Day.
We would not have this glorious chronicle of our glorious day were in not for our dedicated cadre of photographers who scramble to shoot us from start to finish, from one end of Broad Street to another. While Brenda is new to our "Staff," Warren and Al have been with us all 16 years. Our hats are ON to all of them:
THANK YOU for your energy, dedication, and skill, so generously contributed to our cause. It is BEcause of each of you, Promenade 2017 has been preserved for posterity...and everyone's viewing pleasure.
Brenda Peart
Warren Miller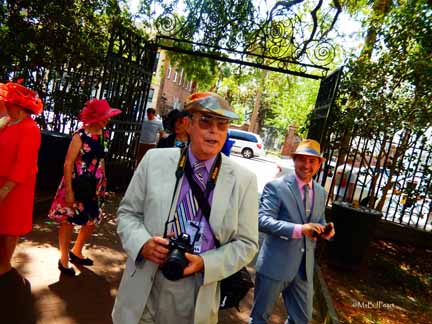 Al Stiles
Every so often there is a professional in the crowd. We met Kim Morgan Gregory at Second Sunday the week prior. See the great shots SHE captured for us and can capture for YOUR next event:
http://www.kimmorgangregory.com/FESTIVALSEVENTSWEDDINGS/EVENTS/HAT-LADIES-CHARLESTON-SC/EASTER-PARADE-2017/

Acknowledging the Media pg. 14