RED PARTY
The Hat Ladies were honored to be asked and proud to assist at the annual Red Party at The Old City Jail to raise funds for The American School of Building Arts.
FIRST THE PRE-PARTY, to get everyone in the mood and mode!
Take a good look now; you won't recognize us in the next set....
| | |
| --- | --- |
| Carolyn, Becky, Karen | Archie, Becky, Karen |
| Jackie, Becky, Karen | Carolyn and Jackie bidding! |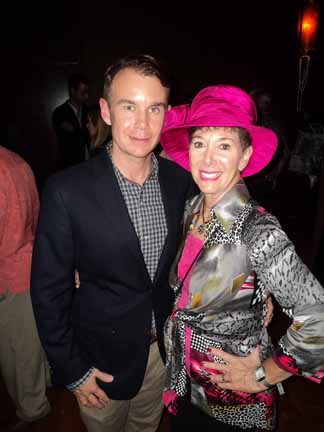 Larry James of Charleston Magazine and Archie
THE REAL DEAL: "ANARCHY IN CHARLESTON"
A lavish 18th century French Masquerade Ball
| | |
| --- | --- |
| Renee, Archie, Nancy (at our own pre-party) | At the entrance to the Jail: Renee |
| Suzanne | Kimberly |
| Archie | Lorna |
| Nancy | Renee, Nancy, Kimberly, Lorna |
| Becky | Luanne |
| Ready to check in the guests: Renee, Nancy, Kimberly, Lorna | Exhausted after checking in 600 guests |
| Lorna still manages a smile | Archie shows off her curls |
| Meanwhile, others have been guarding the Silent Auction tables: Susan | Pat (bathed in blue light) |
| Jackie | Carolyn |
| Jackie and Marlene | Marlene and Gilly |
| Karen | Archie and Jackie...in the same HAIR!!!!! |
| Luanne and Becky finally get a bite to eat | As do Karen, Nancy, Kimberly, Jackie, and Lorna |
| Winding down: Kimberly and Renee | All calling it a (great) night: Renee, Kimberly, Nancy, Karen |