St. Patricks Day Parade
It is always an honor to be invited by The Charleston St. Patrick's Day Parade Committee, a 501(c) (3) Organization affiliated with the Ancient Order of Hibernians. Special thanks to Al Stiles, a member of The Knights of Columbus that is a seed sponsor, and his wife Janie, who had been a Hat Lady, who made it all happen 17 years ago. There are simply great moments in time when you have so much fun your face hurts from smiling.
This year's Celebration was even more joyous than the previous ones. After all, we returned to the glorious streets of Charleston after two years of COVID closing everything down. The enthusiasm was positively palpable...on our part and that of the record crowd.
It was a great day for the Irish and for The Hat Ladies. We hope these photos bring smiling eyes to you, too. But first two notes
From a hatsister: "I wanted to tell you what a wonderful St. Patricks Day I had. Everything was so much fun. I wish I had joined The Hat Ladies years ago."
From The Top Green Hat of The Parade: "Thank you. Your enthusiasm and comments mean a lot to us and I will certainly pass them on to the committee. Thanks for always adding a little glamour and class to a great Irish parade! See you next year!" Jimmy
*****
2022
| | |
| --- | --- |
| Archie & Al Stiles, our link to this Parade | We gather before getting into line |
| | |
| | |
| On our mark, get set.... | GO!!!!!!!! (If anyone knows how to "Promenade," it's The Hat Ladies |
| | |
| We wound up surrounded by music...the best place to be! | |
| | |
| | |
| | |
| Time to head to Condon's for more fun, camaraderie, food and drink! | |
| | |
| | |
| | |
| | |
| | |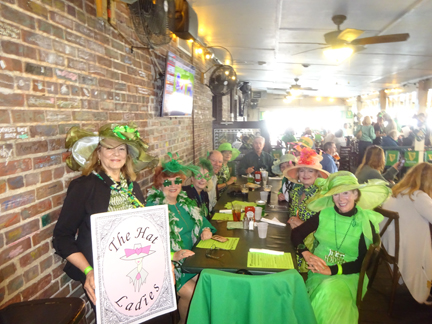 .