"TOP CHEF" VIEWING
It was quite the feather in our cap to be invited to be in the audience for one of the episodes when the popular Food Show, "Top Chef" came to Charleston to film.
The amount of time (and lack of mention) on the Show might have disappointed. But those who came to the house of the Top HAT to view the premier more than compensated:
Thanks for a most enjoyable (joy) evening. Everything was fantastic, of course, the chef & cheffette, were over the Top Chef! Thank you for including me in this hatpy event. Your home is so lovely & loving!
Great party! No one does it better...Top Chef should take lessons from you.
Thanks to both of you for hosting the Top Chef viewing party last night. It was a great time. You once again outdid yourselves with the excellent shrimp dish and delicious carrot cake. Thanks again for your hospitality!
I had fun last night. Great to enjoy such good friends and food as we watched Top Chef.
*****
At least the article about The Show in The Post and Courier gave us more publicity and a great picture of a Hat Lady table, now posted under "Hat Ladies in the News."
| | |
| --- | --- |
| The stars on OUR Runway.... | |
| | |
| Regina walks in thinking she is wearing an original.... | At least their hats are different: Archie's is The Top Pastry Chef hat |
| | |
| | |
| | |
| Mingling before the shrimp is served (paralleling the cuisine of The Show) | |
| Top Chef John is ready to serve... | ...that which he spent hours preparing |
| | Mingling before the start of The Show |
| | |
| | |
| | Show Time |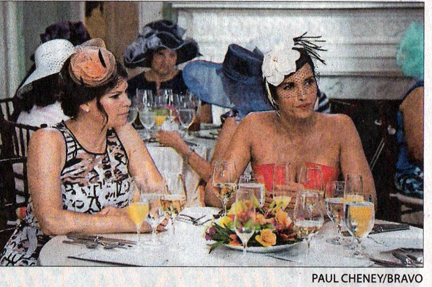 The photo from The Post and Courier