Holiday Luncheon
Of all the Luncheons of the year, the Holiday Luncheon is the "don't miss event" of the season. It provides the perfect opportunity to don our red and green, silver and gold bonnets and celebrate the joy of hatsisterhood as the year ends. Of course, 2020 was a year we all couldn't wait to see end. "Fear" was in the air as everyone weighed the pro's and con's of doing virtually anything. Though our attendance was down, our spirit was sky high as was the clear blue sky. And all who came were haTpy they did, as seen by their Comment Cards:
"Our Luncheon was a great success. It was such a mood booster to see everyone enjoying each other! This is just what the doctor ordered."
"Wonderful Hat Ladies Holiday Luncheon on the creek! We've been coming here for 17 years. Love it...the food, the atmosphere, the Staff!! So fun getting to socialize again with my hatsisters! Seeing longtime friends and meeting new ones! Thank you for making this happen in this difficult year! We all had positive stories to share."
"Thank you so much for giving The Hat Ladies a wonderful gathering. I cannot tell you what a lovely time I had and how haTpy I am I joined The Hat Ladies. I enjoyed the Ladies at my table. Everything was delightful. Hopefully we can get together again soon."
"What a fabulous day today!! So much fun, as always. Thanks for your tireless effort to make these events happen."
"The Christmas luncheon was so needed as we could tell from all the happy faces and conversations!"
"Great Luncheon--why did it take me so long to attend?"
"Great we were able to get together. Lots of fun."
"Kudos for making this year's Holiday Luncheon happen."
| | |
| --- | --- |
| | |
| Chicago had its cows; Charleston has its Snow Ladies; Archie greets everyone with the one she made | Holiday Ladies in Waiting for The Hat Ladies Snow Ladies to arrive |
| Followed by Val with hers and one for Doris, who was there in spirit | Elinor arrives with her masterpiece |
| One for her guest and for herself | Next up: Lanier with two |
| Mary | Joan |
| Jackie's niece Chris | Jackie |
| Deana | Chris's friend Agnes |
| Jean | Ofelia |
| Cindy | Joan |
| Kathleen | Pat |
| Patti | Cathie |
| | |
| | |
| | |
"Loved the little Snow Ladies and Gentlemen"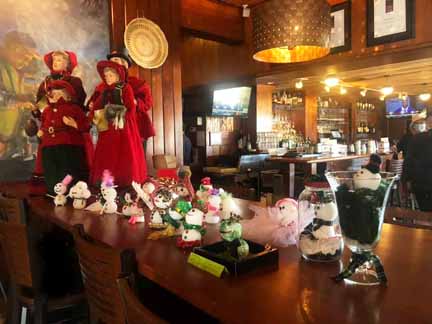 The Snow Ladies were then numbered. Later their numbers will be pulled out of a Santa Hat, and each real Lady will go home with the one she drew