Second Sunday
The second Sunday of every month, the magnificent mile of Charleston known as King Street is closed to vehicular traffic. For four glorious hours, pedestrians stroll its thoroughfare, shopping, eating, and greeting one another.
The Hat Ladies were honored to be asked to Stroll on the busiest Second Sunday of them all:
December's Holiday Second Sunday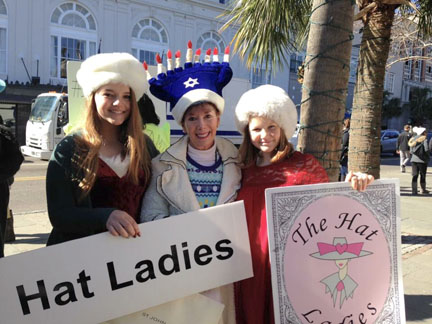 Our Hat Ladies' in Training (HITS) will lead our Stroll
| | |
| --- | --- |
| Archie (Hanukkah), Holly (Xmas) | and Marlene (Kawanzaa will follow |
| We gather at Marion Square | |
| | |
| | |
| | |
| | Hanukkah, Xmas, and Kawanzaa are ready to take to King Street |
| Always time to Shop: First at Jordan Nash | Next at St. John's |
| On the Stroll! | Heading into Charleston Place |
| Once inside... | |
| | |
| Our favorite (and famous) | photo on the staircase! |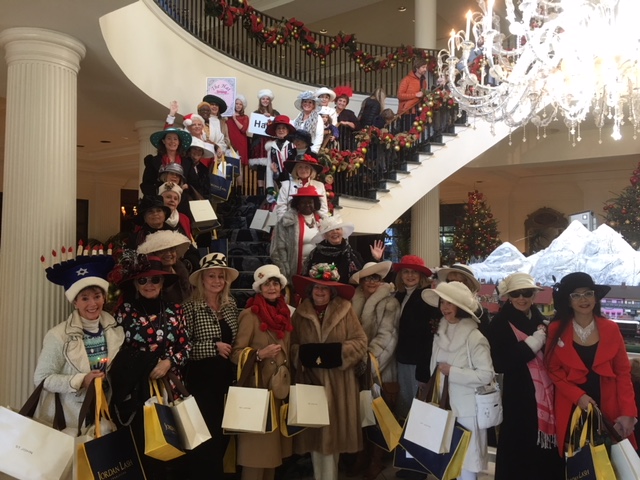 FEEDBACK FROM HATSISTERS:
"I had a wonderful time at our Stroll. I think it should continue as a tradition:
"I had a fabulous day with The Hat Ladies!!!!
"It was wonderful!! I'm keeping my fingers crossed to do it again. I actually enjoyed it as much, if not MORE than Promenade because of the close interaction with spectators!"
BEST COMMENT OF THEM ALL:
"The pleasure was all ours! I loved seeing The Hat Ladies take over King Street, and the way the crowds react to you all. Thanks so much for bringing 25 lovely Hat Ladies to King Street, where they belong. Happy Holidays!"
(Susan of King Street Marketing Group)