WOMEN's EMPOWERMENT FASHION SHOW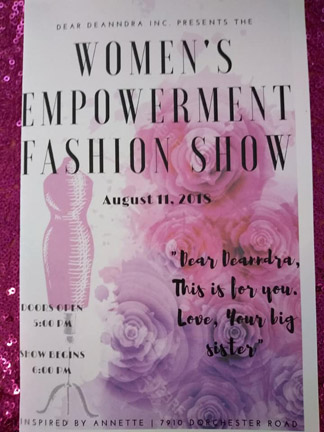 In January of 2016, Deandra Roach was tragically killed by her ex-boyfriend at the young age of 18.
Founded in May 2016, Dear Deandra Inc. is an empowering and non profit organization with a passionate commitment to
women's empowerment. The purpose of the organization is to spread awareness as to the effects of domestic violence and
uplift women in the community who are facing domestic violence struggles.
Self confidence is the #1 source of being empowered. Dear Deandera strives to reach hundreds of women to them feel and
look beautiful. In partnership with Hair Bakery Boutique LLC, Dear Deandra provides beauty services and hosts
uplifting events that support self-confidence, self-worth, and self-reliance.
The Women's Empowerment Faswhion Show aims to bring awareness to domestic violence by spreading love and
emphasizing to the world that women are FOREVER beautiful, and no man should have the ability to diminish a woman's
worth and beauty.
| | |
| --- | --- |
| Nitsa, Kathleen, Archie | Eileen, Kathleen, Pat |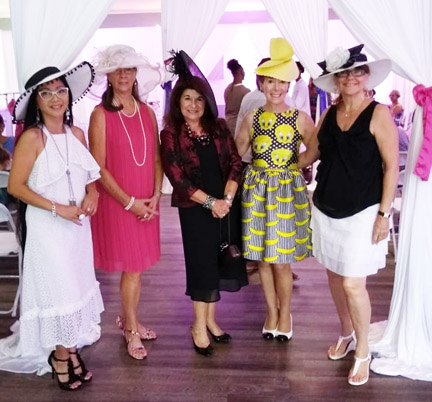 The Hat Ladies were proud to attend.
Livia, Eileen, Nitsa, Archie, Pat
The creator of the Event, Davida Roach, wrote," Good morning Hat Ladies,
I greatly appreciate you all for coming out and supporting my event! It was such an honor to have you there...I plan to organize another one early next year and I would love to have you guys model! Again, thank you and I will definitely keep in contact!