EULOGY FOR MY FATHER
(My Father had a stroke @2 years before he died. As his life hung in balance at that time, I wrote the following tribute and gave it to him. I also read it at his 90th birthday celebration. It only had to be modified slightly for his funeral. In any case, there is no doubt he heard it.)
My Father, who was terribly corny, always said he'd read the obituary column each day to see if his name was in it. On May 4, 2006, it was. Along side the text was a Jewish star and an American flag. He wore both labels proudly.
GOLDSMITH, ARTHUR STANLEY
age 91. Honorable Navy Veteran of WWII. Former owner of Chipico Pickle Co., Chicago. Beloved husband and best friend for 65 years of Thelma ďTybeeĒ (nee Leventhal), loving father of Barbara (John) Burkel and Marlene (Melvyn) Cohen, adored Papa of Matthew (Deborah) Cohen, Melissa (Bradley) Zabel, Joy (Scotty) McIntosh and Gregory Handler, proud great grandfather of Ezra Cohen. Graveside Service Thursday, 1 p.m. at Westlaw Cemetery. In lieu of flowers, contributions to The Anti-Defamation League, 309 W. Washington, Ste. 750, Chicago, IL 60606. Visit Guest Book at www.suntimes.com

Dear Daddy,

I have been blessed to have you in my life for almost 60 years. As I look back on those years, I am most struck by how many things you taught me. It is amazing how this happened. You worked such long hours; you barely took vacations; you werenít demonstrative. Once you stopped smoking, you replaced the cigarette with a toothpick.

Slowly, but surely, corny one-liner by corny one-liner, you impacted my life. You set an example to be admired and emulated. Now, when I am forced to face your mortality, I have come to realize what they are:

1. You taught me to love small towns. The Collinsville News arrived on our doorstep every week. It wasnít until I moved South that I saw how much I was absorbing its message. I love to hit the back roads and explore the small towns "that, in your words, the highway passed by." Even though Charleston is still big by Collinsville standards, I honestly feel I could live in a small town, thanks to the love you had for yours...and your "kin folk."

2. You taught me a wealth of expressions: If I suffer from an unknown illness, it must be "boncos of the conkus;" If I donít want to be paid back, I ask for "a dollar three eighty;" If anyone asks how much further, the answer is "weíll be there when we get there." If Iíve found a bargain, I hear you asking, "you mean you have to spend money to save money?"

3. You taught me to find happiness in pennies, nickels, and dimes. I can never spot a coin lying on the ground without thinking of my eagle-eyed Father. I truly feel Iím continuing the Goldsmith tradition every time I bend down and pick up another one. I havenít yet found a diamond ring in the sand, as you once did.

4. You taught me to hold onto things and save them . Nothing symbolizes your attachment to things more than your shaving brush...the first one you owned and the one that was your traveling companion throughout your life. One day I learned you had finally "retired" it (its bristles worn down to the nub)... but of course, still hadnít thrown it away. It now sits on my shelf, one of my most treasured and priceless possessions.

5. You taught me to value my education. If I only had one day to relive, it would be the day you attended my Honor Society Induction. You were there, at great sacrifice. In order to do so, you went to work even earlier that day. Somehow you managed to be in the Von Steuben Auditorium by 10:00am...dressed in a suit, no less. You changed back into your work clothes and didnít return home until 9:00 that night, a full three hours later than usual.

6. You taught me to set goals. "Two college educations; two weddings" was your refrain. Those dreams came true...and then some. Micki and I went to college in style, staying at dorms fancier than the house we lived in. Micki and I walked down the aisle as brides at the finest hotels, while our guests dined on filet mignon.

But there was nothing phony about it; just the opposite. You simply wanted the best for us. After schelpping those pickles for so many years, you could provide it. In fact, you were critical of those who were all show and no substance. Iíll never forget your disdain for the Father of one of my childhood friends; he drove a Cadillac but lived on the third floor of an apartment building.

7. You taught me dreams really can come true. You were fascinated with what you read about the Orient, long before traveling there became commonplace. It would have been a bit difficult, however, fitting it into a weekend trip...which of course, was all that you ever allowed yourself for so many many years.

But as soon as you had partners at Chipico, your dream became a reality. Nothing has given me more pleasure than seeing you live long enough and well enough to have traveled as much as you ultimately did.

8. You taught me giving your word meant something. Customers never needed a clock on the days Art Goldsmith was delivering his wares; they could set their watch according to the time he walked in their door.

9. You taught me that every job has its drawbacks . I sure didnít understand this lesson at first. How could I believe any job could be worse than yours? Iíd lay in bed and hear you start the car in the driveway when it was still dark and unbearably cold (or hot) outside. Then Iíd see you return 12 hours later in the dark.

How could I understand, when I knew you would have been a lawyer if the times and circumstances had been different when you graduated (as valedictorian) from your high school class? After all, you were so bright, your Father called you "Son."

Eventually I saw the pressures that came with jobs held by people with college degrees; they were nowhere near as happy as you were schlepping those pickles. In any case, you HAD your degree; it just happened to come from The School of Hard Knocks. How we rejoiced when we found a sweatshirt with those words and saw you proudly wearing it!

10. You taught me the joy of being your own boss. Ultimately this lesson explained your job satisfaction despite the physical hardships (and even dangers sometimes) of being a pickle man. I am never happier than when I am in control of my projects or my jobs; I now understand completely.

11. You taught me how to be "as busy as a mosquito in a nudist camp." Well, maybe THIS corny line caused the most groans! But not any more. I use it frequently because it rings so true. And people like it; they really like it; they donít even groan!

12. You taught me how to distinguish between things that would change and things that would not. One of my favorite stories, which I repeat to this day, came when I had had a particularly bad hair cut. I had also just had a retainer put back on my bottom teeth. I was really feeling sorry for myself.

You pointed out that YOUR hair and teeth were falling out, while MY hair would grow back and braces come off. You told me to "quit your bellyaching!"...and I sure DID...appropriately.

13. You taught me the value of volunteerism. You set an example by being a volunteer at the College, by supporting the Anti-Defamation League, and by serving as Vice President of your Jewish War Veterans group. You were forever giving back to those causes that meant the most to you.

I was so proud knowing you were one of the veterans on Memorial Day and Veterans Day wearing your cap and selling poppies...despite the lousy Chicago weather. Your patriotism was captured by a photographer who put your picture on the front page of the local paper. Growing up I loved playing with the photos in the shoeboxes.

I knew just what to do. I found the perfect picture of you as a young sailor. You were so handsome it even surprised you. I made a composite of the two photos which will be treasured by Goldsmiths for generations to come. It was even admired nation-wide, since it won first place in a Calendar Photo Contest.

14. You taught me determination. You had been a very heavy smoker. When Arthur Godfrey came out as the spokesman for the American Cancer Society and made the link between smoking and lung cancer, you quit--right then and there--cold turkey. You intelligently looked at the facts and had the fortitude to do the right thing. Which leads right to number 15.

15. You taught me every birthday is to be cherished because "some people donít make it this far." Of all your corny lines, this one surely caused me to groan the loudest each September 8th. But oh how right you are! Your wise perspective...and corn... provide a yearly lesson to all of us. Even now, we can't help but celebrate the fact that you made it as far as 91 1/2.

16. You taught me that no matter how old I got, Iíd still be your little girl. When you came to visit for Motherís Day two years ago, I realized you never stopped worrying about me. It did not matter I was almost 56 years old at the time. You still wanted someone protecting me, in your absence.

The most miraculous thing happened as we ate dinner; the song, "Memories" came on. You said you liked it. I asked you to dance with me. And you did. There is a song that goes, "Can I have this dance for the rest of my life." I will always have that dance.

17. Even after your stroke, you kept teaching me. This time the message was "to keep trying," and to be "doing the best you can." Life was not easy since your stroke. But you keep trying and doing the best you could. If that isnít teaching me a life lesson, I donít know what is.

Oops, I almost forgot: you taught me to be a poet:
Roses are red,
Violets are blue
Iím proud to be your daughter,
And I sure will miss you.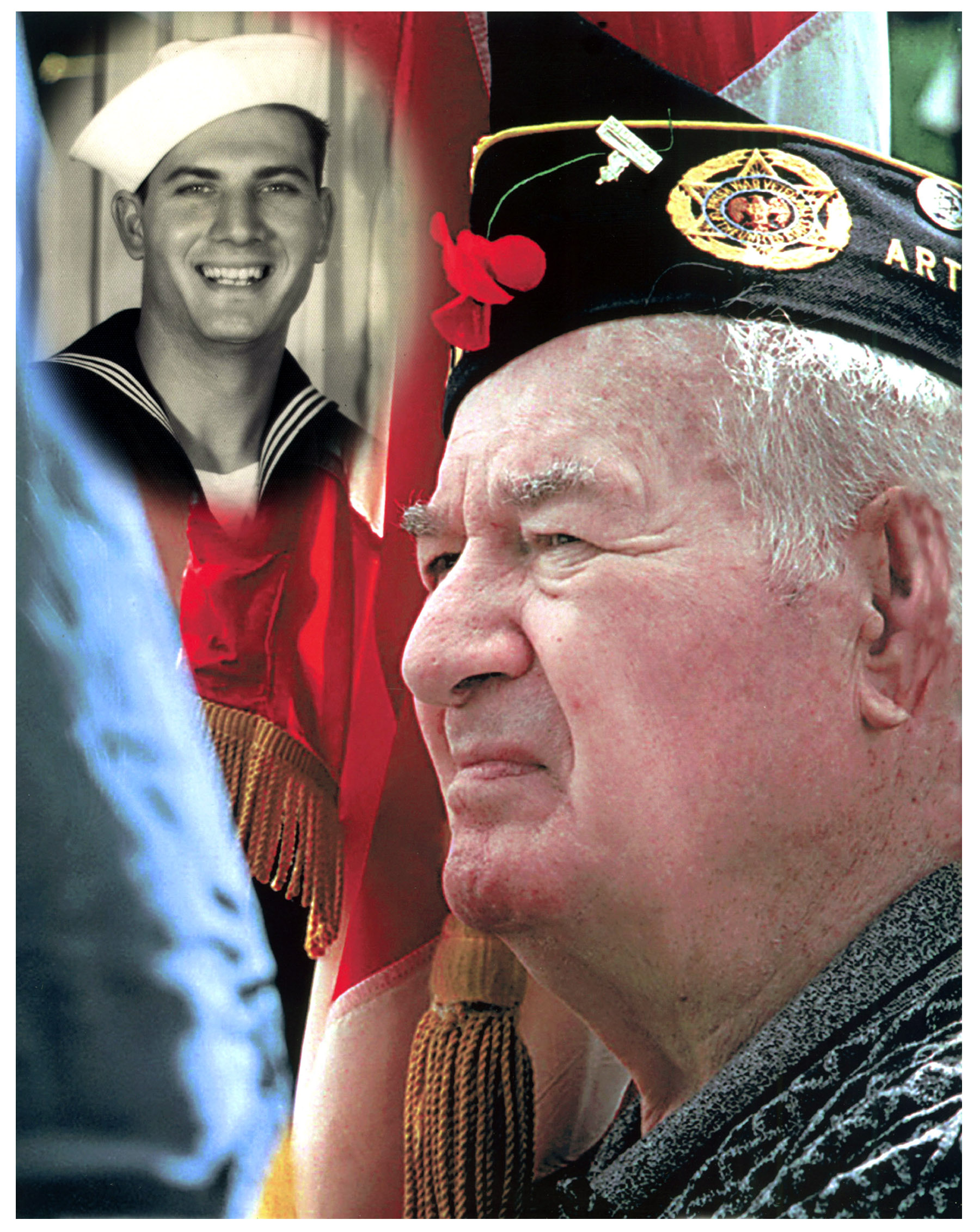 This photo was taken approximately 12 years ago, one Memorial Day as my Father stood on the street corner in Chicago distributing poppies. I remembered the pictures from the "shoe boxes" and had this composite made for members of our family. Time passed, and I heard of an Organization asking people to submit photos covering a variety of categories, "veteran" being one of them. Not only did my Father represent the month of July, his photo took first prize.
His Jewish War Veteran's Hat is my favorite hat of all. I wear it proudly every (appropriate) chance I get.
Archie's Articles

<![if !supportLineBreakNewLine]>
<![endif]>