FLORENCE CRITTENTON FUNDRAISER
Wine, Women, and Shoes
Our mission is to provide young, at-risk pregnant and parenting women comprehensive services to help them become self-sufficient and responsible mothers.
Florence Crittenton Programs of South Carolina values the right of every pregnant young woman to obtain the education, skills and support needed to have a new beginning for herself, and a healthy start in life for her child. We strive to instill self-sufficiency in clients who are struggling with a variety of challenges. Our clients get personalized, professional care to help them achieve a healthy life of autonomy and success. Without our assistance, many of our clients would be homeless and without access to pre-natal care.
Whether Board member, guest, or model, The Hat Ladies are honored to support their efforts.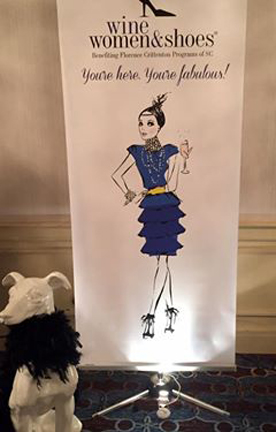 Before the Show: Archie and Kathleen

Carolyn and Kathleen

Susie

Ready for the Show to begin:

Standing: Archie (model), Kathleen

Seated: Susan, Carolyn, Nitsa (former Board Member), Nanc and Susie (current Board Members)

Not pictured: Mimi

Archie on the Runway

One more photo for the road: Nitsa, Susie, Archie, Nancy, Kathleen, Carolyn