VOLUNTEER APPRECIATION DINNER
(always nice to be appreciated...)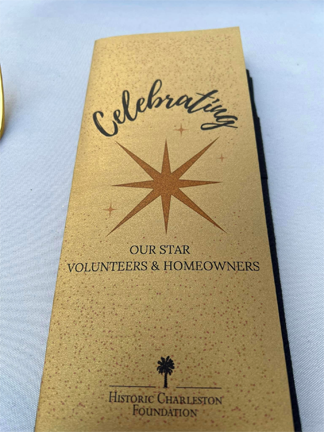 | | |
| --- | --- |
| Archie and John | Jakki and Archie |
| | |
| --- | --- |
| Jayne, John, and Archie | Jayne being honored for 20 years of volunteerism |
SPRING 2022 TOUR OF HOMES & GARDENS
| | |
| --- | --- |
| Jayne Sr. Docent Extraordinaire... | Archie |
| Pat | Jayne, Archie, Pat |
| Jayne | Archie |
| Our hats inspired non Hat Ladies to wear THEIR hats the next day! | Jayne takes the reins again |
| | |
| --- | --- |
| With Pat along side her | Jayne |
| Pat | Pat and Jayne |
| Nancy representing HCF and us, as pretty as the garden in which she stands | Nancy Day 2 |
*****
HCF always honors its docents. Here a few of us who attended the Fall Volunteer Appreciation Party, with its Hawaiian Theme:
Archie, Jayne, Kimberly, Regina, Pat
*****
The Hat Ladies has made Historic Charleston Foundation's Spring Tour of Homes and Gardens their tradition and eagerly sign up as docents each year. After all, what would Charleston BE without their efforts!
Since houses and gardens on tour were shown twice, many of us appear in these photos twice...in different clothes and hats, of course....
| | |
| --- | --- |
| Jayne Sr. Docent Extraordinaire... | ...who was previously honored as Docent of the Year |
| Heather Lyn | Cindy |
| | |
| --- | --- |
| Heather, Cindy, Pat, Jayne | Our polka dotted hatsisters: Pat, Carolyn, Kathy (who was Sr. Docent one of the days) |
| Regina Day #2 | Regina Day #1 |
| | |
| --- | --- |
| Carolyn Day #2 | Carolyn Day #1 |
| Susan Day #2 | Susan Day #1 |
| | |
| --- | --- |
| Kathy | Val |
| Deana Sr. Docent Day #1 | Kathy, Susan, Regina, Carolyn, Val, Deana |
Jackie and Archie...or is it Archie and Jackie ?

Sr. Docent Archie and Susie

Pat, Jayne, Archie, Carolyn, Regina, Kathy, Susie

Archie, Jayne, Carolyn, Regina,

Susie, Kathy