The Hat Ladies
Pulling Diplomacy Out of a Hat
(appeared in March Issue of www.hatalk.com)
The Hat Ladies of Charleston, South Carolina in the USA, recently hosted the female officials of The United Nations at The Hats of The World Luncheon. Under the leadership of Top Hat Archie Burkel, this elegant affair was held on January 20, 2011 at the Romanian Mission in New York, headquarters of the Romanian Ambassador and co-host, Simona Miculescu. We asked Archie Burkel to report back on the event and here, in her own words, is what she told us...
For ten years The Hat Ladies have been bringing together ladies of all ages who love hats of all colors and wear them in a spirit of camaraderie and community service. It was during one such volunteer activity that the idea for The Hats of The World Luncheon was 'HATched'.
Last July, The Hat Ladies helped local talk show host Tammy McCottrey Brown at The Women and Girls Summit. The keynote speaker was the Ambassador from Romania. As fate would have it, I had been in the Peace Corps in Romania and even own a vintage Romanian hat. Thus a bond between us was inevitable. Soon a Luncheon became inevitable, too. After all, I had been successfully coordinating monthly luncheons for The Hat Ladies, so why not do one for the United Nations Ladies?
I view the world from under a hat. I have seen how hats lead to communication between male and female, young and old, and people of different races and religions in my hometown. I have seen barriers come down and relationships begin. Sometimes all it took was the honk of a horn, a smile, a thumbs up. I realized the time and opportunity had come to prove that hats unite people of all cultures and bring them untold joy. All we needed was the right 'hatitude', something a world class gathering was destined to have.
With Ambassador Miculescu on board and handling the invitations and the food, I gathered my Ladies to work out details like transportation, hotels and an itinerary. Naturally, a tour of The United Nations would be included. Together we planned the program.
Hats and smiles filled the Reception area of The Romanian Mission from the moment the various representatives stepped off the elevator. The Hat Ladies and Ambassador Miculescu greeted their guests, then helped them choose a hat from those provided by The Bollman Hat Company, thanks to Bernard Grossman, formerly of Betmar hats. Over 60 women became little girls once again, as they put on their new chapeaux and saw themselves in the mirror. It did not matter whether they were from New York or California, Slovenia or Luxembourg; they all experienced an instantaneous rise in self-esteem. "I love your hat" quickly morphed into, "Can I take your picture?" Smiles and cameras flashed, while differences disappeared at the drop of a hat.
With hats firmly on heads, everyone headed into the Protocol Room. Dignitaries from the UN, as well as the Bahamas, Ireland, Liberia, Luxembourg, Monaco, Nauru, Nigeria, Slovenia, Timor Leste, Turkmenistan, Gabon and Qatar shared the meaning of hats in their lives. Some told stories of their mothers and grandmothers wearing them. Others explained how hats were part of their culture or religion. Everyone stood tall with heightened self-esteem.
An elaborate banquet, prepared by the Romanian Staff, awaited everyone in the Dining Room. But it is the laughter that everyone will remember, whenever they remember The Hats of The World Luncheon. Hats spoke every language, transcended each culture, inspired communication, and radiated good will. With a hat on our head and a smile on our face, the world became a better place.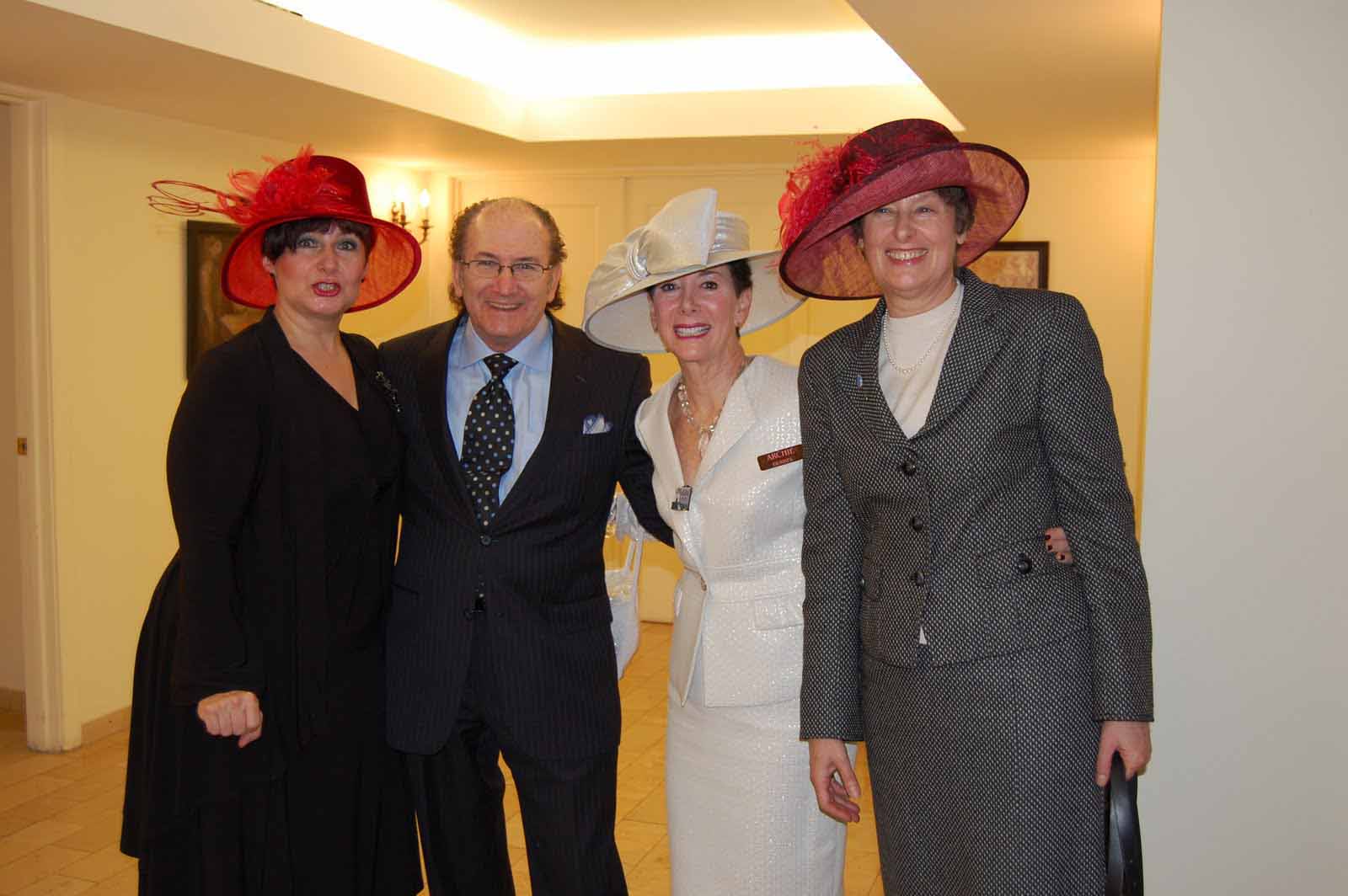 Left to Right: Simona Miculescu (Romanian Ambassador), Bernard Grossman (Betmar Hats),
Archie Burkel, (Top Hat of The Hat Ladies,
Angela Kane (UN Under Secretary General for Management)
| | |
| --- | --- |
| Left to right in bottom photo: U.Joy Ogwu (Nigerian Ambassador), Jeanie Heath, Isabelle Picco (Monaccan Ambassador), Nitsa Smythe | Left to Right in top photo: Linda Atkinson, Soknan Han Jung (Ambassador for Gender Equality), Paulette A. Bethel (Bahamian Ambassador), Beverly Craven |
To see more photos from this magical afternoon under a hat and to learn more about Archie Burkel and The Hat Ladies of Charleston, log onto

www.hatladies.org. Who knows - perhaps Hats of The World Luncheons could be held throughout the world?
Articles