PLANNING PARTY 2015
It is a Hats of The World tradition to gather at the home of Top Hat, Archie, the last weekend in October to share tips, plan activities around the Luncheon, build excitement and camaraderie, and toast our good fortune to be embarking on this incredible journey. After all, an Event of this magnitude doesn't hatpen at the drop of a hat.
The rest is up to you, New York, New York!
| | |
| --- | --- |
| | |
| | |
| Alan pops the champagne | |
| | |
| Mama Goldsmith's Carrot Cake... | Anna joins us at the end |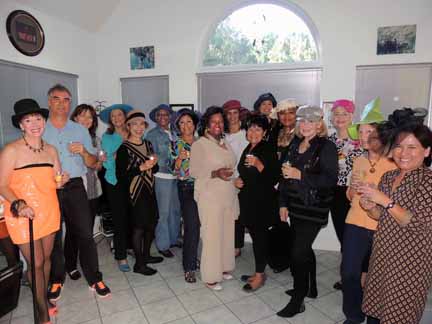 Archie, Alan, Cheryl, Cathie, Nina, Marlene, Renee, Linda, Kimberly, Nitsa, Candace, Priscilla, Nancy, Jeanie, Teri, Kathy
Plus husbands Ken, Sewell, Rob, and Matthew, Mimi, Betsy, Kathye, Vernell, and Joan, hatsisters from out of town, and Pat G., Susie, Barbara, Jennie, and Regina
Bottom Line: A GREAT Line-Up!