HAT DAY IN THE SUN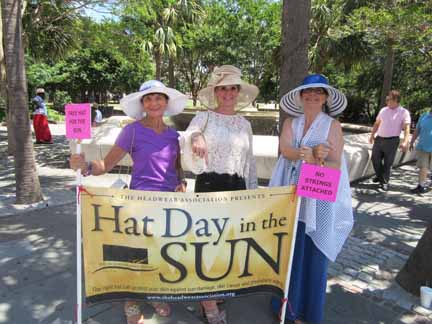 This year's Event takes place on Friday, June 21, 2019 at Marion Square, King Street side; begins at 11:30 and continues as long as supplies last; one hat per person
*****
Hat Day in the Sun is a national Program sponsored by The Headwear Association. Free, wide brimmed hats for men, women, and children are distributed to highlight the health benefits of hat wearing, along with their being a fashion statement. The Hat Ladies are always honored and delighted to be a part of it.
www.theheadwearassociation.org
*****
Hats provided by The Bollman Hat Company, www.bollmanhats.com
Don Rongione, CEO of Bollman hats wrote:
"Well done, Hat Ladies of Charleston. Thanks for continuing to be wonderful ambassadors for hats!"
*****
| | |
| --- | --- |
| The table with women and childrens' hats is ready for customers... | ...as is the one for the men |
| The decorators are setting up their shop... | ...to add any bling requested of our "customers" |
| MUSC is ready to dispense invaluable info on skin cancer and other skin related diseases | The lines are already forming. Good thing we are passing out numbers |
| | |
| | |
| | |
| There is a nice steady stream of customers that forms over the next hour and a half | Fortunately we have found the only shady area in the Square, since the temperature will reach 97' |
| The stylish "hatisfied" customers start to exit the Square... | ...with a hat on their head and a smile on their face |
| Meanwhile our designers keep busy, upon request, of course | |
| | |
| The men and boys love their hats as much as the women and girls... | ...and sure know when they're lookin' good! |
| | |
| Pat hands out info provided by The Headwear Association on how to "Practice Safe Sun" | And the lines keep forming |
| | |