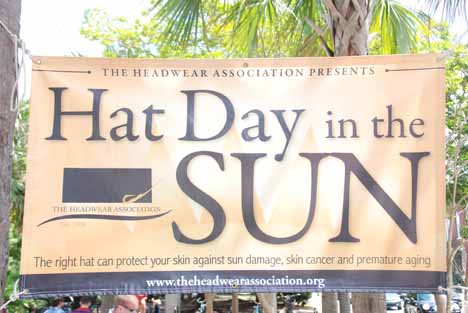 Hat Day in the Sun is a national Program sponsored by The Headwear Association in which free, wide brimmed hats for sun protection are distributed. The Hat Ladies were honored and delighted to be a part of it.
www.theheadwearassociation.org
*****
The following media that helped publicize the Event:
Post and Courier, Charleston City Paper, Charleston Currents, Lowcountry Live (ABC/WCIV), Octavia Mitchell (WCBD/NBC), WCSC Live Broadcast; Charlie James Show (WTMA 1250)
*****
Hats provided by The Bollman Hat Company, www.bollmanhats.com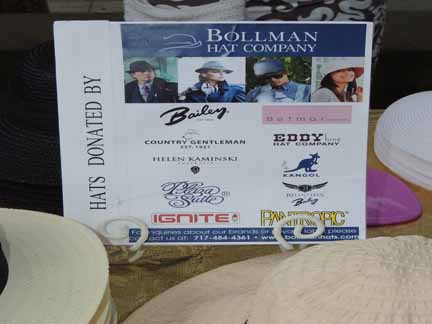 *****
| | |
| --- | --- |
| The Hat Day sign is up (flanked by Pat and Eileen, who will coral those walking down King & Calhoun) | The Hat Ladies sign is up (flanked by Archie, Susan, and Karen, who have their own roles to play) |
| Susan and Karen collate materials provided by MUSC Melanoma and Skin Cancer Program | The table and Karen are ready! |
| Jackie is ready to distribute numbers | And extend a welcoming han |
| Beth is ready at her "Couture Corner" to embellish hats, upon request | Susan, Corinne, and Susan are ready to help our customers select the right one |
| Eileen, Doris | Pat, Pat, and Eileen |
| Archie, Maureen | Can't be too young to learn! |
| The lines begin to form.... | |
| | |
| | |
The clock strikes twelve, and it's time to begin!