HIGH TEA TRADITION
In the Spring of 2001 it became apparent to Archie Burkel that there were Ladies interested in wearing hats. She kept getting feedback (and started collecting email addresses) from Ladies she met while walking around town in her hats. Since Ladies who wear hats "do tea," Archie arranged for Tea at the finest place in town: The Thoroughbred Club of Charleston Place (known as The Lobby Lounge back then).
The Management was willing to set aside @20 seats, since Archie did not personally know those on her list and who might actually show up. Judy Watts, Fashion Editor of The Post and Courier, sent a photographer to cover the Event. Once it was posted, the history of The Hat Ladies began to be written. The Hat Ladies will forever be grateful to Charleston Place for taking a chance on us and allowing us to return every year to "do Tea."
| | |
| --- | --- |
| A customized menu and elegant place settings await us | |
| | We meet and greet one another first. For many it has been a while since we've seen one another. |
Let the service begin!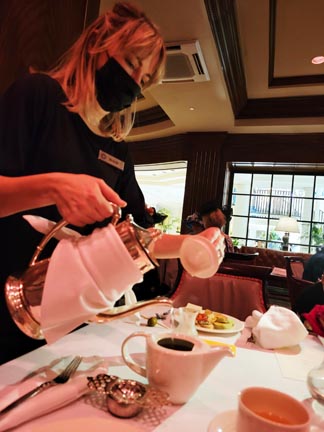 | | |
| --- | --- |
| | |
| | |
| | |
| | |
| | |
| | Archie with Chris Baggett, General Manager of The Throughbred Club |
| | |
| Same time/ next year | Thanks, Pat, for your always wonderful photos. You are definitely our cup of tea! |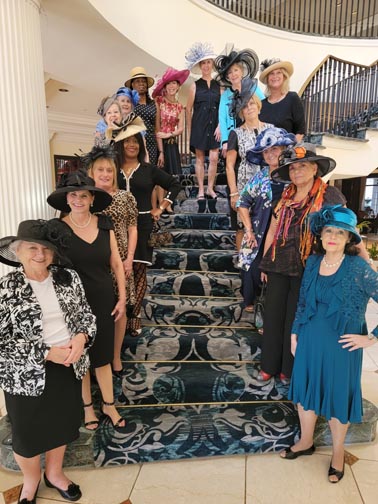 Nobody does it better!
We were a sight to see:
Sitting in The Thoroughbred Club
Enjoying our 21st High Tea.
We entered on time
Into our beloved Charleston Place,
With a stylish hat on our head
And a radiant smile on our face.
Same time/next year,
Second Sunday in September;
Mark my words and your calendar
So you're sure to remember.
Nobody does it better;
Makes me feel sad for the rest:
I'm telling all y'all:
The Hat Ladies and Charleston Place are the BEST!