TEA AND HAT LUNCHEON AT PAYNE REFORMED METHODIST UNION EPISCOPAL CHURCH
The Hat Ladies were invited as special guests to join the Missionaries at Payne R.M.U.E. Church. We were asked to wear our hats, and bring our favorite tea cup.
Reverend Dr. Julia Levette Smith did not have to remind us to wear our smiles. We gladly did, throughout the lovely morning. Here is her lovely THANK YOU
"It was with great pleasure to have fellowshipped with you and The Hat Ladies of Charleston at the Hat & Tea Luncheon held at Payne R.M.U.E. Church. The ladies and I thank you from the bottom of our hearts for the wonderful time and the pictures. Once again THANK YOU for an amazing Luncheon."
| | |
| --- | --- |
| Left to right: Eileen, Gladys, Opelia, Jean | Gladys |
| Eileen | Corinne |
| Ida | Jayne |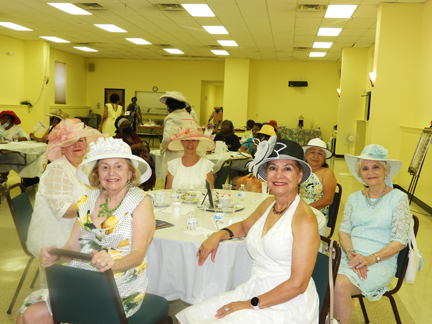 Jean, Ofelia, Rosie, Gladys, Eileen, Val
Elinor, Ida, Archie, Corinne, Jayne
Let The Show Begin!
Top Hat Archie

Reverend Smith

The only way to properly "hat hug"

We begin with The Hat Ladies "Promenade" of hats ranging from casual to Luncheon to evening to Easter Bonnet

Eileen

Ida

Elinor

Jayne

Archie

Rosie

Eileen

Jean

Jayne

Ofelia

Corinne

Val

Sylvia: A member of the Congregation AND The Hat Ladies

Church members who served us

Another Staff member

The delicious buffet meal
WE ARE AS PRETTY AS A PICTURE....
| | |
| --- | --- |
| Sylvia | Jayne |
| | |
| Ida | Ofelia |
| Corinne | Elinor |
| Archie | Rosie |
From head to toe, The Hat Ladies "bonded" with the Ladies of the Payne Reformed Methodist Union Episcopal Church. As Humphrey Bogart said at the end of Casablanca:
"This could be the beginning of a beautiful friendship."
Mark my words: "We hope so!"