BACKGROUND TO THE HATS OF THE WORLD LUNCHEON
In July 2010, The Hat Ladies were volunteers at The Women and Girls Summit, created and hosted by Tammy McCottrey Brown, star of the Talk Show that bears her name. One of the guest speakers was Simona-Mirela Miculescu, Ambassador Extraordinary and Plenipotentiary Permanent Representative of Romania to the United Nations.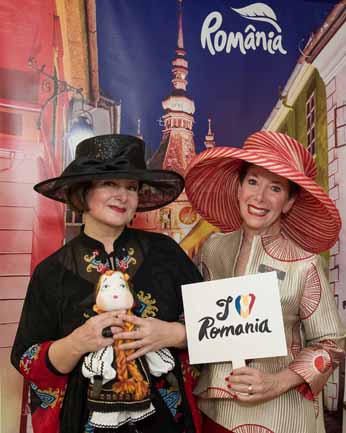 Romanian Ambassador Simona Miculescu and Top Hat, Archie Burkel
The idea of THE HATS OF THE WORLD LUNCHEON was born that weekend and became a reality on January 20, 2011.
The best way to understand the full meaning behind this Luncheon is to paraphrase the wording of the 1945 document that created The United Nations itself:
PREAMBLE
We The Hat Ladies of Charleston South Carolina Determined
to show hats unite peoples of all cultures and generations and bring them untold joy

to reaffirm faith that dignity, worth, and self-esteem of nations as well as individuals can be pulled from a hat

to promote social progress and better standards of life thru the right hatitude
AND FOR THESE ENDS
to coordinate our efforts with those of Simona Miculescu, Ambassador Extraordinary and Plenipotentiary of Romania to The United Nations, and create The Hats of The World Luncheon

to invite the female ambassadors and officials of The United Nations as our esteemed guests

to encourage the wearing of native hats

to provide hats donated by The Bollman Hat Company as gifts

to showcase the hat as a unifying symbol that speaks every language, transcends each culture, encourages communication, and results in good will between all peoples
RESOLVED TO AND ACCOMPLISHED THIS AIM
Accordingly, our respective Ladies assembled in the City of New York at the Romanian Mission on January 20, 2011, combined fashion with compassion, and proved with a hat on one's head and a smile on one's face, the world becomes a better place.
The first three Hats of The World Luncheons remained at the Romanian Mission, with Ambassador Simona Miculescu as the co host.. In 2014, the hat was passed to Ambassador Isabelle Pico of Monaco.