DREAM GIRLS CONFERENCE
The Hat Ladies were honored to serve, once again, as part of the Hospitality Services at this Conference that "spreads inspiration, and encouragement" with the goal of "empowering thousands of young girls."
Whatever hat we wear, Hat Ladies rise to the occasion. We work together, get the job done, and leave wherever we've been even better than how we found it.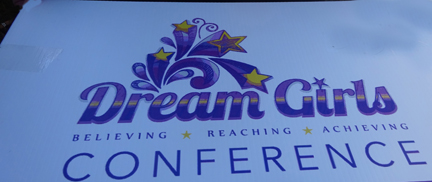 | | |
| --- | --- |
| Ida, Sylvia, Archie, Pat, and Deana start unwrapping the cartoons holding the food | Pat, Ida, and Sylvia are camera and sandwich box ready |
| Sheila and Kathy are Hat Ladies in Waiting for the distribution to begin | As are Pat and Pat |
| Kathy, Deana, and Ida "huddle" against the chilly morning air | As do Archie and Sheila...grateful that the rain of the previous day is gone |
| Deana directs traffic as the hungry participants finish the first part of their day | Kathy is also "Johnny on the spot!" |
| Meanwhile, Pat distributes... | ...While Sheila and Pat practice crowd control |
| Ida lends a hand and a drink to a fellow volunteer | Sylvia switches to "clean up krewe" |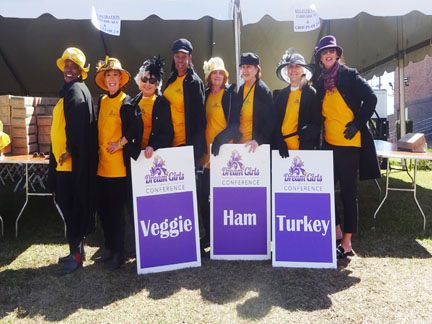 Sylvia, Archie, Pat, Ida, Kathy, Sheila, Pat, Deana (not a turkey or ham among us:>)
(Believe it or not, we did not plan to coordinate our jackets or slacks)!