PRESERVATION SOCIETY
The Preservation Society is the oldest grass roots Preservation Society in America. It strikes a balance between progress and preservation by: cultivating an appreciation for Charleston's architecture and charm; advocating to save historic sites and objects; educating to pass on traditions and heritage www.preservationsociety.org
Every Fall The Preservation Society holds its TOUR OF HOMES AND GARDENS
This year we filled a record 3 houses!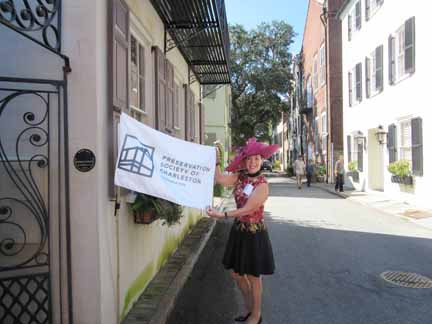 Sr. Docent Archie
Linda

Holly

Kathy

Stephanie

Kathy

Kathy, Stephanie, Linda, Archie, Holly, Kathy

Sr. Docent Norma

Liz

Corinne

Cindy

Corinne, Liz, Norma, Cindy

Sr. Docent Jayne

Pat

Maureen

Ruth

Deana

Deana, Jayne, Ruth, Maureen, Pat

From one of the Board members, seconded by the Volunteer Coordinator of The Preservation Society: I was so pleased to have the stylish Hat Lady Team as docents this year. Thank you for sheparding guests through the houses with such care and flair.

Special thanks for the gracious gift of time in support of PSC. Your help make PSC's ongoing work possible.

Hats off to each and every Lady on the team!
Not pictured: Val Craun and Susan Lee, who beautifully represented us on other Tours