PRESERVATION SOCIETY
The Preservation Society is the oldest grass roots Preservation Society in America. It strikes a balance between progress and preservation by: cultivating an appreciation for Charleston's architecture and charm; advocating to save historic sites and objects; educating to pass on traditions and heritage www.preservationsociety.org
Every Fall The Preservation Society holds its TOUR OF HOMES AND GARDENS. Like most everything, the Tour had to be modified due to COVID.
In fact, only one of us was able to volunteer in 2022
The one and only inimitable Jayne
*****
2021
The Society scaled back its offerings significantly, to the point that only one of our hatsisters, Jayne Larion, participated. In fact, she made her usual journey from her home in Grand Blanc, Michigan to do so. It is no surprise that she has previously been recognized as Volunteer of the Year for her dedication, charisma, and expertise.
| | |
| --- | --- |
| Jayne Larion, Sr. Docent | Jayne Larion, Sr. Docent |
2020
In 2020 the Society created a socially distanced, safe plan to present Tours that showcased the outside and gardens of Charleston's treasures and supported the cause of preservation.
The Hat Ladies were beautifully represented in 2 of the houses on Tour
Archie - Sr. Docent
| | |
| --- | --- |
| Elinor: One of the prettiest flowers in the garden | Pat: The other beautiful flower in the garden |
| Jayne was Senior Docent at another house and will be a Senior Docent the following weekend. She has been recognized for her outstanding contribution to both The Preservation Society and Historic Charleston Foundation, often driving to town from her permanent home in Michigan to support their premier fundraisers | Hat Lady Corinne answered Jayne's call to join her...thanks to HER love of preservation and her love of Jayne! |
******
Enjoy the most recent photos from the pre-pandemic days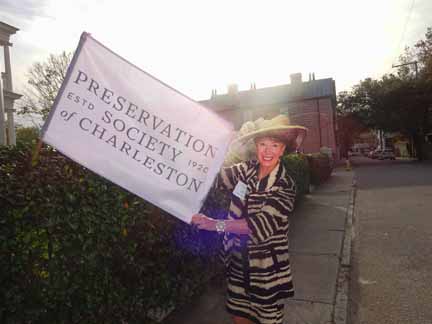 Archie- Sr. Docent
| | |
| --- | --- |
| Corinne - Sr. Docent | Kimberly |
| Nancy | Kathy |
| Carolyn | Gail |
| Jayne, Senior Docent | Kathy |
| Pat | Patte |
| Susan | Regina |
| Venetia | Jennie |
| Monica | Pat |
| Jackie | Pat |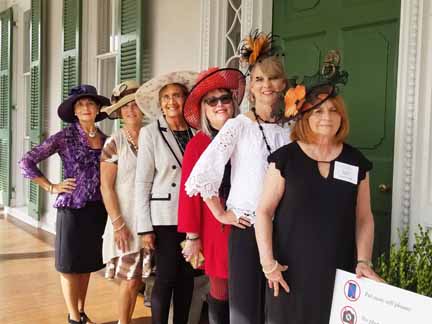 Carolyn, Corinne, Gail, Nancy, Kimberly, Kathy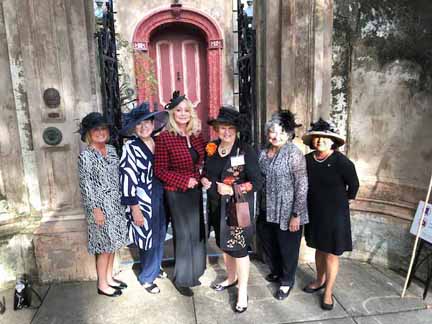 Regina, Susan, Patte, Jayne, Pat, Kathy (not pictured, Venetia)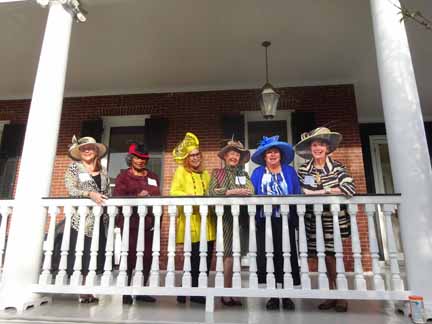 Pat, Jennie, Pat, Jackie, Monica, Archie