THE RUTH MAZYCK HAT BOUTIQUE AT HOPE LODGE
on the Campus of The Medical University of South Carolina
<![if !vml]>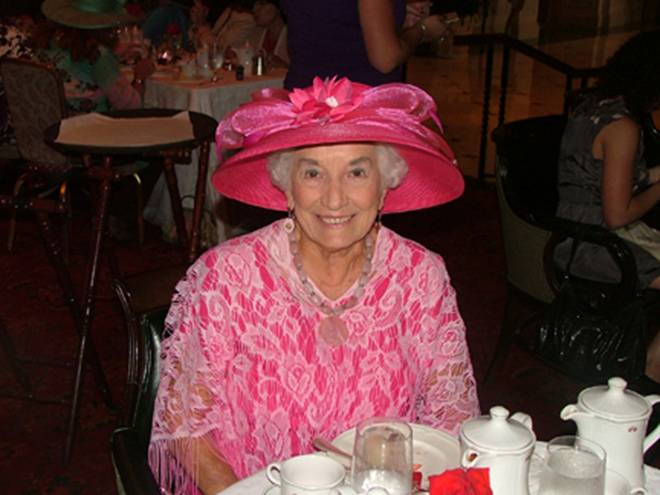 <![endif]>
Ruth Butler Mazyck was a Breast Cancer Survivor, a dedicated Volunteer at Hope Lodge, and a Founding Member of The Hat Ladies of Charleston. She personified our belief that 'when you look good, you feel good. And when you feel good, you do good.' In that spirit and in
Ruth's honor, this Hat Tree, comprised of gently used hats donated by her hatsisters, has been planted.
The hat stand, mirror, and plaques were donated by Mary and Bubba Catoe in loving memory of Dr. Sandra and Earl Catoe.
*****
According to the Senior Manager, Kelsey Ray, 'The guests are loving the Hat Rack and trying them on already.
Thank you for bringing your vision to life in The Lodge.'
*****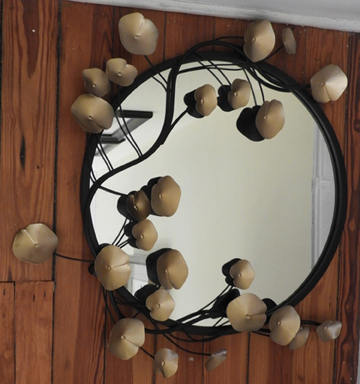 Mirror, mirror on the wall, let the residents be the fairest of them all!
| | |
| --- | --- |
| | |
| The Plaque that tells the story behind The Tree, is on the wall to the right, and can be seen in the next photos. | The Hat Tree stands in the warm and elegant room where residents are welcomed to this magnificent facility. |
| | |
| Mary and Bubba Catoe | Cherry and Archie |
| Archie flanked by Cherry and her husband Charles | Susie and Liz |
| Hat Ladies: Left to right: Susie, Cherry, Mimi, Archie, Liz; this photo appeared in the Newsletter referenced below | Cherry, Archie, Bubba, Mary |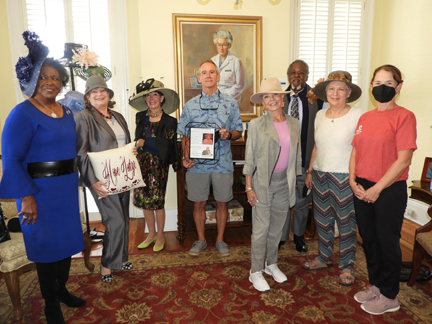 Cherry, Susie, Archie, Bubba, Mimi, Charles, Liz, Mary
Interesting facts about attendees, right to left:
Mary is a Physical Therapist who often serves residents
Hat Lady Liz brought students from Garrett Academy to The Lodge once a week to serve dinner
Charles is the loving husband to Cherry and supportive of her Hat Ladies' activities
Hat Lady Mimi is a new Hat Lady, who has most enthusiastically tossed her hat into our ring
Bubba is the loving husband to Mary and was delighted to support The Tree to honor their parents
Hat Lady Archie is The Founder of The Hat Ladies dedicated to bringing people together
Hat Lady Susie had a friend who lived in Hope Lodge when it was an apartment building
Hat Lady Cherry, wife of Charles, has such a long and strong link, it deserves to be added almost in its entirety. She wrote:
'I was overjoyed when I learned about the wonderful idea of creating a hat boutique that will gift fashionable hats to cancer patients who live out of town and stay at "Hope Lodge" for four or more weeks during treatments. I especially loved the room that was selected to house The Hat Boutique because I have many fond memories of Mrs. Margot Freudenberg. This room was named after her because she was the driving force behind the "Hope Lodge" and credited with bringing her vision to life.
I have been personally involved with the Hope Lodge for over 30 years. During this time, I worked at the MUSC Department of Radiation Therapy. I served on several committees, and I chaired many positions including: Chairman of the Board and Public Education Chair. I also was a member of the Professional Education Committee. I helped plan many Great American Smoke-Out events.

My involvement was also extended to my family. In fact, My husband and i appeared in many Step'n Time Productions over the years. These were large fundraising events that benefited the American Cancer Society. During this period, I was also awarded many trophies and awards. Above all recognitions, the one that stands out the most for me is the Irene Dixon award. At that time this was the highest American Cancer Society Award at the local level. Archie, I am grateful to be a part of The Hat Ladies of Charleston for the past 8 years. Our group may have been small in numbers, but I can tell you we have a humongous heart. I am filled with love because of you.'
Cherry reminisces about her relationship to Hope Lodge and its Founder: Margot Freudenberg
Moreover, anyone of those in attendance could have written these words: 'Today was a wonderful day with our small group of Hat Sisters. I know the hats will help cheer up the patients in residence at Hope Lodge. Thank you.
LAST, BUT FAR FROM LEAST, the following article appeared in The Hollings Newsletter and in The MUSC Facebook and Instagram posts....
A big "Thank you!" to the Hat Ladies of Charleston!
This group, which has been finding ways to give back to the community through donations to MUSC since 2004, recently established the Ruth Mazyck Hat Boutique at the Charleston Hope Lodge. The American Cancer Society's Hope Lodge provides a "home away from home" for people undergoing cancer treatment.
The hat boutique, named after a founding member of the Hat Ladies and a long-time volunteer at the Hope Lodge, provides free, gently used hats to help residents to look good and feel good.
Displays were donated by Mary and Bubba Catoe in loving memory of Dr. Sandra Catoe and Earl
Pictured from left to right: Susie Robertson, Cherry Seabrook,
Mimi Keenan, Archie Burkel, Liz Franchini